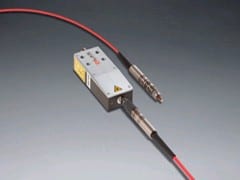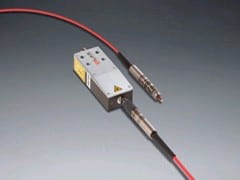 Conduction-cooled fiber-coupled diode laser module based on diode laser bars which delivers 32 Watt at a wavelength of 793 nm from a 105-micron fiber core with a numerical aperture (NA) of <0.22. 
Measuring 90 mm × 31 mm × 20 mm, this industry-standard package boasts a wall plug efficiency (WPE) of greater than 40 % at operating current. The module typically operates at <60 A of current with a compliance voltage of 1.8 V. Standard wavelength tolerances are ±3 nm with spectral widths less than 5 nm. This module is also offered at 35 Watts at 808 nm and 40 Watts at 976 nm from a 105 µm core diameter fiber with a numerical aperture (NA) of 0.22.
This industrial package is intended to service a variety of applications that range from fiber laser pumping to micro-materials processing to medical uses. At 793 nm, this fiber-coupled module is ideal for pumping thulium (Tm)-doped fiber lasers and amplifiers which are specifically used in eye-safe applications, emerging medical applications and remote sensing, amongst others.
Dilas Diodenlaser GmbH
Industrial Laser Systems
Galileo-Galilei-Str. 10
55129 Mainz
Tel.: +49 (0)6131 9226-0
Fax: +49 (0)6131 9226-253
E-Mail: [email protected]
Website: www.dilas.de