For the first time, an affordable and reliable manufacturing process for the integration and packaging of fully flexible high-performance electronics has been developed for future Internet of Things (IoT) and Internet of Everything (IoE) applications. The process shows a method based on emerging additive manufacturing technology 3D printing to tackle the long lasting challenge of low performance printed electronics.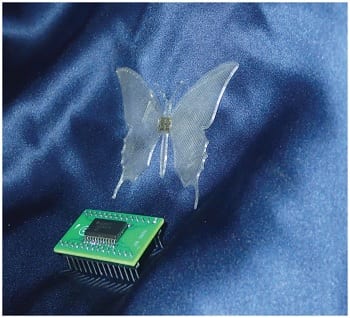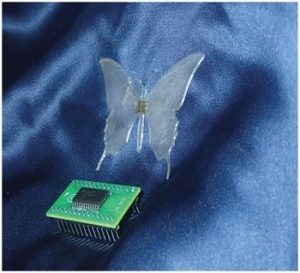 The fabrication processes used for the development of decal electronics are fully compatible with the most advanced nanofabrication techniques, making the concept of decal electronics the solution for challenges commonly faced by printed electronics, such as poor feature resolutions and material incompatibility. Also, the roll-to-roll printing capability gives decal electronics the advantage of allowing high throughput in highly complex flexible electronics systems. The demonstrated circuits show no performance degradation due to flexing or packaging processes, making this technology suitable for future consumer electronic applications. Furthermore, the materials used in the fabrication process show the broad spectrum of technologies to which the concept can be applied as a means of packaging and interconnecting electronics devices.
The devices are fabricated using mature CMOS processes such as photolithography, deposition, and patterning on a low-cost silicon (100) substrate. The packaging materials are printed using 3D printing technologies and the interconnections are made using inkjet printing of silver nanoparticle-based inks. Finally, the system scale printing is done using a custom made roll-to-roll printing platform. The concept combines the best of both worlds: the performance and cost advantage of inorganic electronics with the high throughput, simplicity, and flexibility of printed electronics.