Advanced Healthcare Materials celebrates its 5th birthday this year! Since 2012 we have been bringing you the latest breakthroughs in biomedical materials science with a strong focus on improving human health, and we will continue to do so in 2017. Read more about this in our latest editorial.
No access to our published content yet? Make sure to recommend Advanced Healthcare Materials to your librarian. More information can be found here.
In this biweekly feature, we highlight the artwork on the covers of the most recent issue of Advanced Healthcare Materials, and of course the research behind it. You can find this week's issue here. Click on the titles or cover images below to get to the corresponding papers. Also check out our previous cover art feature here.
Injectable
Supramolecular Hydrogels as Delivery Agents of Bcl-2 Conversion Gene for the Effective Shrinkage of Therapeutic Resistance Tumors
by Xuan Liu, Xiaohong Chen, Ming Xuan Chua, Zibiao Li, Xian Jun Loh, and Yun-Long Wu
Yun-Long Wu, Xian Jun Loh, Zibiao Li and their team members at Xiamen University, National University of Singapore and A*STAR designed injectable MPEG-PCL-PEI/α-CD-based supramolecular hydrogels in the form of a polyplex, possessing good sustained release ability of Bcl-2 conversion genes, thereby effectively inhibiting in vivo tumor growth. This long-term "enemy to friend" strategy might benefit various applications, including on-demand gene delivery and personalized medicine.
Affinity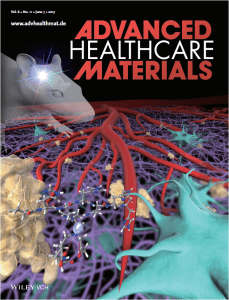 -Immobilization of VEGF on Laminin Porous Sponge Enhances Angiogenesis in the Ischemic Brain
by Mio Oshikawa, Kei Okada, Naoko Kaneko, Kazunobu Sawamoto, and Itsuki Ajioka
Itsuki Ajioka and co-workers at Tokyo Medical and Dental University and Nagoya City University report a laminin sponge (purple) with affinity-immobilized VEGF (yellow), which is an angiogenic growth factor. Neovascularization from existing blood vessels (red) in ischemic brains can potentially prevent the excess death of neurons (cyan), and improve functional recovery. The angiogenic activity of this sponge is demonstrated in vivo in a mouse stroke model.
Engineered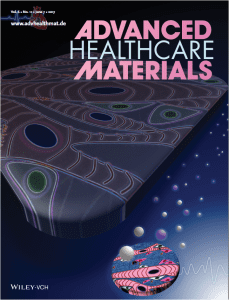 3D Cardiac Fibrotic Tissue to Study Fibrotic Remodeling
by Amir Hossein Sadeghi, Su Ryon Shin, Janine C. Deddens, Giuseppe Fratta, Serena Mandla, Iman K. Yazdi, Gyan Prakash, Silvia Antona, Danilo Demarchi, Marc P. Buijsrogge, Joost P.G. Sluijter, Jesper Hjortnaes, and Ali Khademhosseini
Advanced Healthcare Materials board member Ali Khademhosseini and his collaborators at Harvard Medical School, Massachusetts Institute of Technology, University Medical Center Utrecht and Politecnico di Torino describe an engineered 3D fibrotic heart tissue, which is created by fabricating physiologically relevant cardiac tissues with native-like mechanical properties. Upon exogenous stimulation with the profibrotic transforming growth factor beta-1, these tissues reveal fibrogenic changes, such as collagen production, myofibroblast activation, and electrophysiological disturbances.