Since 1906 the water of Nice, France, has been sterilized by ozone, O3, a powerful oxidant that is generated in large quantities by dielectric barrier discharge (DBD "cold" plasma) systems operating at atmospheric pressure (AP). Climate change, human activities, and eutrophication of water bodies have degraded the quality of freshwater sources worldwide. Increased simultaneous presence of nuisance algal and cyanobacterial blooms, pesticides, and fecal contaminants in water supply systems constitute a substantial part of our new environmental challenges and shows the need for ways to 'clean up'.
Current operational oxidation processes apply only to a limited number of reactive species simultaneously, thereby restricting the ability to degrade combinations of harmful cells and toxins. For example, water that is contaminated by cyanobacterial cells, saxitoxins, microcystins, and pesticides would require both chlorination and ozonation.
Ozonation would oxidize microcystins and pesticides, but with little or no effects on saxitoxins. b‐N‐methylamino‐L‐alanine (BMAA) oxidation has been studied only in the past year under limited experimental conditions. For all these reasons, it is becoming increasingly urgent and important to develop new AP plasma‐based technologies that can help resolve these problems effectively and economically.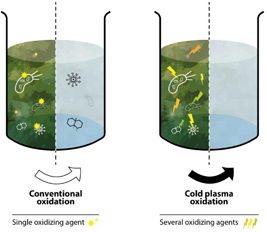 A team of scientists from the Polytechnique Montreal in Canada might have found the steps to a solution: they conducted experiments in which reactive oxygen species (ROS) from a 20 kHz HV discharge in Ar/O2 (90/10) gas mixture at atmospheric pressure were directly bubbled into highly concentrated aqueous suspensions of cyanobacteria Dolichospermum, green algae Scenedesmus and BMAA toxin, simulating extreme algal blooms.
With their research they were able to assess the capability of "cold" AP plasma oxidation for inactivation/lysis of cyanobacteria and algae cells in water suspension, and for oxidation and removal of BMAA cyanotoxin from water.
Their experiments have shown that direct contact between an AP "cold" oxidizing plasma source and water that contains very high concentrations of cyanobacteria and green algae, along with associated BMAA toxin, could be quite rapidly (in minutes) decontaminated with modest energy input.
"The laboratory‐scale experimental apparatus used here is believed suitable for eventual scale‐up, for example using large arrays of hollow electrodes shown in Figure. We are now refining the procedures and data in such a way as to better assess the process economics for large‐scale implementation.
Longer‐duration contact of residual contaminants with PAW will certainly contribute to favor economic viability", according to team member Arash Zamyadi.