Among innovative treatments for cancer, virotherapy represents a promising class of cancer therapeutics. The US Food and Drug Administration (FDA) has approved a genetically engineered virus (T-VEC, Imlygic™) to treat advanced melanoma. However, most clinical trials of virotherapy have treated patients via intratumoral injection. Achieving efficacious and accurate delivery will greatly broaden opportunities in virotherapy.
In their recent publication in ChemNanoMat, Dr. Zi-Xian Liao from Institute of Medical Science and Technology, National Sun Yat-sen University and colleagues, report on microscale RNA interference using iron oxide nanoparticle-modified lentivirus.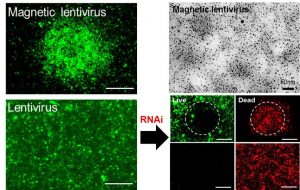 Although the use of RNA interference (RNAi) has emerged as a powerful tool for the study of gene function in mammalian cells, cytoplasmic delivery of small interfering RNAs (siRNAs) is limited to cells capable of transfection and is primarily utilized for transient in vitro experiments.
The lentivirus-encoded short hairpin RNA (shRNA) chemically conjugated with iron oxide nanoparticles have remarkable ability to be remotely guided under magnetic field, and viral infection is achieved with microscale precision for microscale RNAi therapy.
In particular, the distribution of cell death was largely confined within the magnetic field microscale spot infected by lentivirus-shRNA in treated cells stained by TUNEL and Live/Dead staining.
Text kindly provided by the authors of the original manuscript.