Bruker is a provider of scientific instruments and solutions for molecular and materials research, as well as for industrial and applied analysis. Now, the company has announced the introduction of a new handheld XRF analyzer. At 1.44 kg (including battery) the new analyzer S1 Titan is among the lightest tube-based handheld XRF analyzers on the market today. It features an integrated touch-screen color display, an up to 50 kV X-ray tube, a silicon drift detector with high energy resolution and light-element capabilities, and a housing that is sealed against humid and dusty environments.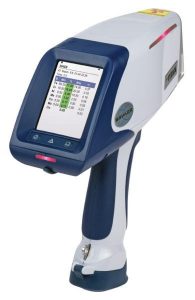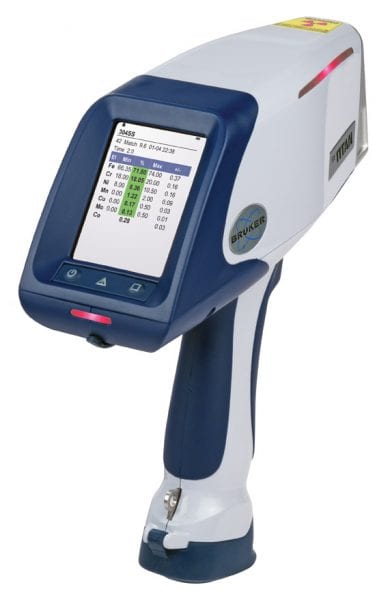 The handheld analyzer is available in three models: the 'LE' version uses a thin film window for analysis of up to 37 elements, including light elements such as Mg, Al and Si, without the need for a vacuum or helium gas flush. 'SE' analyzes standard alloys, as well as high temperature samples up to 500˚C. 'SP' is equipped with a traditional SiPIN detector; it measures in-process samples at temperatures up to 500˚C.
According to Bruker, the patent pending SharpBeam technology improves the detector and tube geometry. The resulting user benefits are enhanced measurement precision, reduced power requirements and increased battery life.
The company reported that the new analyzer covers a wide range of applications and materials, including industrial metals, exotic aerospace alloys, e-scrap, drill core, soil, consumer goods, and more. Thus, application can be found in aerospace or automotive industry, in metals processing and fabrication, in electronics manufacturing, in a refinery or in a power plant, in mining, in recycling and scrap sorting as well as in consumer products testing and in field environmental analysis, or in the testing laboratory. Here the handheld analyzer pledges to quickly and accurately identify the elemental composition or identify the alloys of your sample or parts to be tested.
John Landefeld, Executive Vice President of the Bruker Elemental Division, commented: "We completely redesigned the instrument, in order to remove almost one third of the weight. In terms of analytical performance and proprietary algorithms, the S1 Titan has made even further progress for many important metals, mining and recycling applications and calibrations, for fast, easy-to-use, accurate, reliable and automated elemental analysis and positive material identification."
Bruker AXS GmbH Östliche Rheinbrückenstr. 49 76187 Karlsruhe, Germany
Phone: +49 721 50997 0 Fax: +49 721 50997 5654 Email: [email protected] www.bruker.com/s1titan