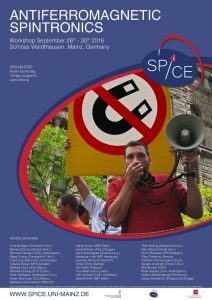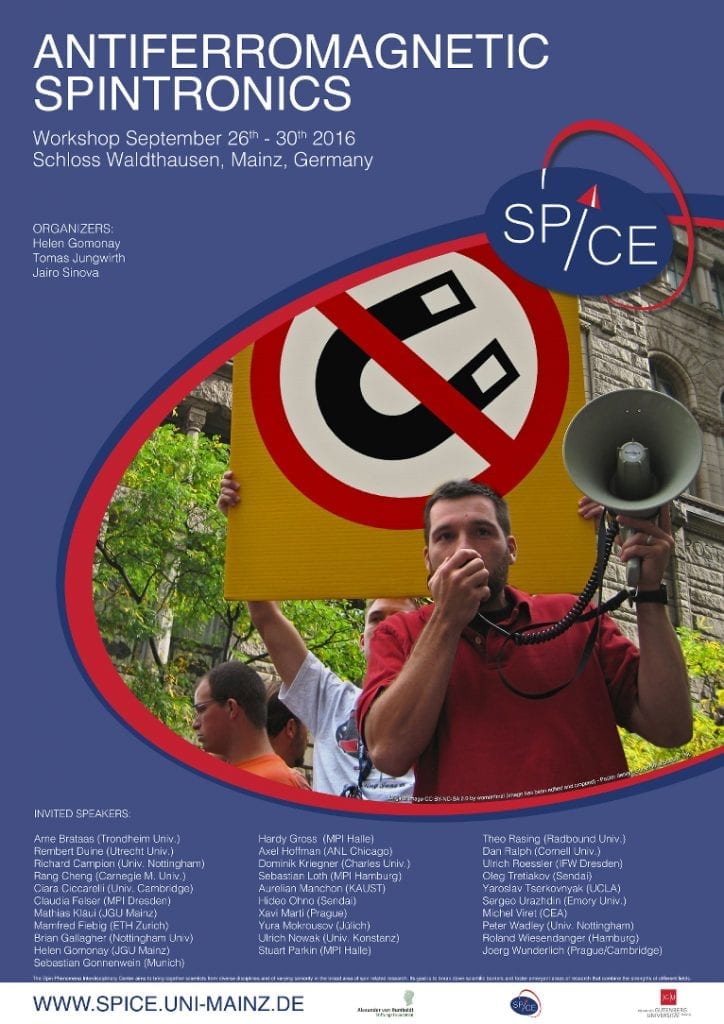 The workshop on Antiferromagnetic Spintronics is held in Castle Waldthausen near Mainz this week (September 26 – 30th, 2016). The workshop is organized by Prof. Dr. Helen Gomonay (JGU, Mainz, Germany), Prof. Dr. Tomas Jungwirth (ASCR, Prague, Czech Republic) and Prof. Dr. Jairo Sinova (JGU, Mainz, Germany) within the frames of the Spin Phenomena Interdisciplinary Center (SPICE) initiatives.  With the generous help of the Humboldt foundation and the State of Rhineland-Palatinate, the center offers resources to host scientific workshops and schools focused on the general topic of spin phenomena with an emphasis on collaboration among different fields and disciplines.
The workshop on the emerging field of Antiferromagnetic Spintronics focuses on making antiferromagnets active elements of spintronic devices. From an application point of view, it emphasizes how to read, manipulate, and store information in these systems robustly. From the basic science point of view, it exploits the larger range of spin physics in this material due to the higher complexity of the ordered phase and order parameters.
The first 1 1/2 days are held in a school format with tutorials that will emphasize the similarities and differences between ferromagnetic and antiferromagnetic spintronics. The workshop covering the latest developments in the field of Antiferromagnetic Spintronics is supported by publication of the related Topical Issue in physica status solidi (RRL) – Rapid Research Letters.