Artwork by Kieran O'Brien
Today is International Women's Day, a day meant to celebrate the progress and achievements of women around the world. But the day has also been established to shed light on the remaining challenges and hurdles women face as a result of gender bias and inequality, which unfortunately still remain. The fact the we need a day to highlight these challenges underscores the persistence of the problem.
Within STEM, and a majority of other fields for that matter, women are still underrepresented and overlooked. However, the tides do seem to be slowly changing, with more women entering and holding prominent positions within STEM than ever before.
This year's IWD 2021 campaign theme has been dubbed #ChooseToChallenge, because from challenge comes change. In this feature, we highlight inspiring women who have not only contributed to incredible advancements in science and tech, but who have broken social boundaries and through tireless advocacy are now setting the stage for the next generation of women to go even further.
Kizzmekia Corbett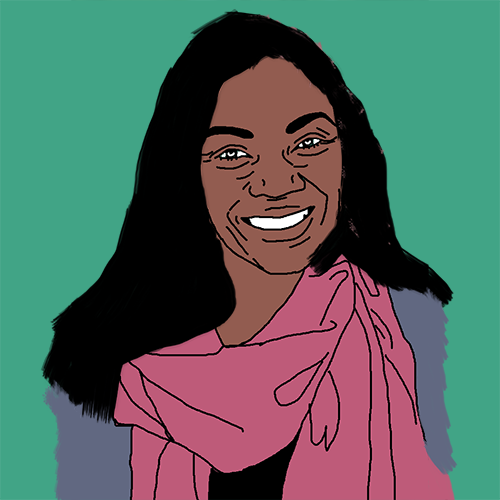 Within the world of immunology, Kizzmekia Corbett is a rising star. An expert on the front lines of the COVID-19 pandemic, she is the US National Institute of Health's (NIH) lead scientist for coronavirus vaccine research and was part of the team that worked with biotech firm Moderna to develop one of the mRNA vaccines shown to be 90% effective against the SARS-CoV-2 virus.
With a doctorate in microbiology and immunology, for the past 6 years, Corbett's research has focused on understanding vaccine immune responses in order to design vaccines for members of the coronavirus family. When the outbreaks began in 2019, she and her team quickly mobilized to produce a vaccine for the current virus using their prior knowledge and experience, and helped solve the structure of the SARS-CoV-2 spike protein.
Outside of research, Corbett is playing an important role in science outreach, combating vaccine hesitancy and debunking misinformation, especially within the Black community, through virtual events and her Twitter account, @KizzyPhD. As a result of her scientific contributions and efforts to communicate it to the public, she was featured in Time Magazine's 2021 "Time100" Next list of emerging leaders who are shaping the future.
Alyssa Carson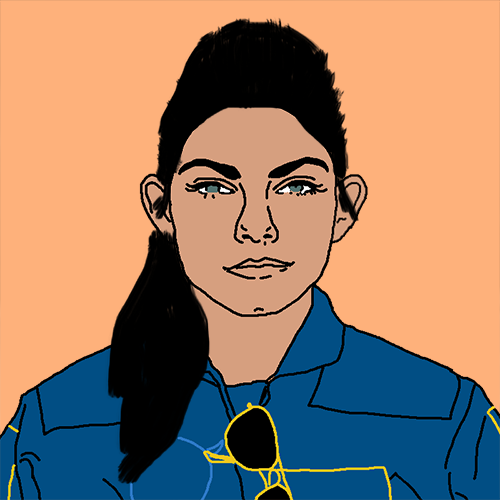 At just 19, Alyssa Carson is the youngest member on our list but has shown a tenacity for chasing her dreams that is beyond enviable. Since the age of 3, she says she has wanted to become an astronaut and in her short life has already made incredible strides toward that goal.
Nicknamed "NASA blueberry" — a name she got at space camp because her flight suit was a deeper blue than others — Carson has completed space camp 7 times, space academy 3 times, has witnessed 3 space shuttle launches, and is the youngest person to graduate the Advanced Possum Academy, a hands-on and immersive science program that qualifies participants to become astronaut candidates.
In 2013, she became the first person to complete the "NASA Passport Program", visiting each of NASA's fourteen visitor centers across nine states with her father, and was invited to be on the NASA MER 10 panel to discuss future missions to Mars. She was later selected as one of seven ambassadors representing Mars One, a mission to establish a human colony on Mars in 2030.
Carson is currently completing a degree in astrobiology at the the Florida Institute of Technology and actively participates in outreach, giving Ted talks to encourage young girls to enter STEM, writing for newspapers and magazines, and self-publishing a book in 2018 entitled So, You Want to Be an Astronaut?
After her undergraduate degree, she plans to complete her master's at the International Space University in France after which she will obtain a doctorate in astrobiology. "I want to […] show everyone how important it is for us to start exploring other planets and preparing to live on Mars and beyond. I also want to continue inspiring kids so the next generation will follow me and take us further," she said in an interview with AOPA.
Kyzzhibek Batyrkanova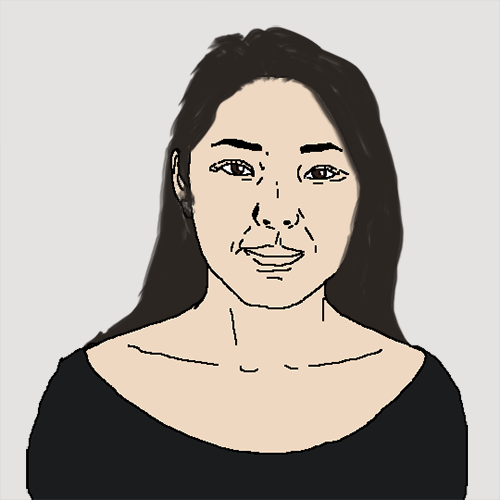 Perhaps the only member of this list who's work is partly funded by a patreon page, Batyrkanova leads a team of women who aim to launch Kyrgyzstan's first ever satellite. When talking about their inspiration for the project the team says, (via translation),
"We're fed up of discrimination against girls and women in Kyrgyzstan. We're fed up that in many families, girls are being brought up as servants. We're fed up that many girls in Kyrgyzstan are being kidnapped, raped, and then forced to live with their rapist, having to call him "husband".
We're also also fed up with tens of thousands of other stories of awful injustices towards women.
But what can we do in response? We wanted to create an environment in which a group of girls would make history for real. In doing so, they would overcome stereotypes and cliches and inspire other girls in Kyrgyzstan (and perhaps around the world too) to realize their most fantastic dreams."
Launched in 2018 in partnership with a Kyrgyzstani media organization, the team have been methodically working towards their goal. Till now, they have been developing the required programming and technical skills by working with an educational satellite. Ultimately thought the team is planning to launch a CubeSat satellite.
This spring they expect to take delivery of a CubeSat engineering model, which will help them prepare for managing the real thing. They hope to launch in late 2022 or early 2023.
Margaret Hamilton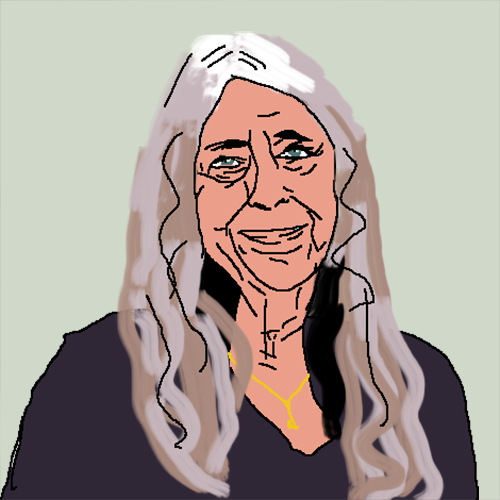 In the early 60s while working at MIT on software to detect enemy aircraft, Margaret Hamilton was drawn to an advert from NASA seeking people who wanted to develop the programs required to send humankind to the moon.
Her curiosity piqued, she applied and became the first programmer to join. She was not the first engineer, but in the 1950s the term "software engineer" did not yet exist, and wouldn't until she coined the phrase some years later.
By the time the Apollo 11 mission launched Hamilton was leading a team of around 100 programmers who were responsible for developing the software that ran on the two onboard computers.
During the mission one of the astronauts accidentally left a switch in the incorrect position. Her choices during the software design process meant that when the astronauts onboard were presented with the resulting emergency alarm 3 minutes before the landing on the moon, the team (and the software) were able to avoid an aborted landing.
In 2016, in recognition of this work, Hamilton received the presidential medal of freedom.
Vera Rubin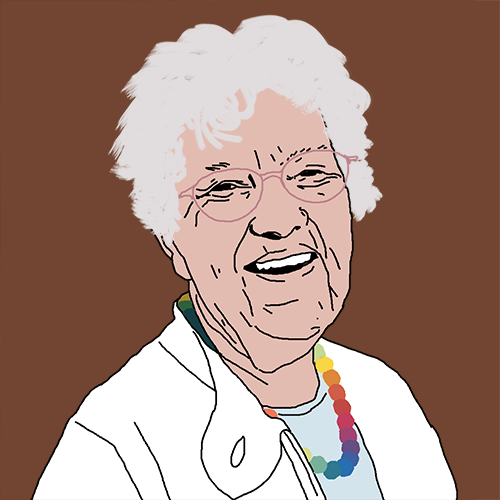 In 1965 when working at Palomar observatory Vera Rubin cut up a piece of paper, glued the shape onto the appropriate position on the figure painted on the door, and created the first women's bathroom in the facility. Alongside her work with arts and crafts, Rubin helped bring the theory of dark matter into the mainstream.
The concept of dark matter was first proposed in the early 30s, by astronomers who noticed that in some circumstances the behavior of objects in the universe implied that there was more mass around than astronomers could see. This idea gained no traction in mainstream astronomy until Vera Rubin started investigating the rotation of galaxies.
In our solar system, objects closer to the sun spin around it faster because they experience a stronger gravitational pull. Rubin showed in a spiral galaxy like Andromeda, the mass at the edges of the galaxy rotates around the centre of the galaxy at around the same velocity as the mass at the edges.
This finding strongly suggested that there was a "halo" of mass around the edges of galaxies that could not be observed by astronomers. A halo that is now accepted by the mainstream in astronomy as being composed of dark matter.
Sylvia Earle
In the early 1970s Sylvia Earle lead an all female team on the Tektite II mission. For 2 weeks the team lived around 15 meters under the surface of the ocean, just off the coast of the virgin islands, in an effort to understand how human biology would cope with extended periods underwater.
During this experience and over the course of her career in marine biology, Earle developed a keen interest in ocean conservation. Around the turn of the millennium, she lead the 5 year "Sustainable Seas Expeditions", which aimed to better understand the marine habitats around the US national marine sanctuary, and then in 2009 founded "Mission Blue".
Mission blue's goal is to build support for marine protected areas, and they are working toward converting 30% of the earth's marine environments to protected status by 2030. Her team are achieving tangible results with 122 marine protected environments registered as of 2020.
Fei Fei Li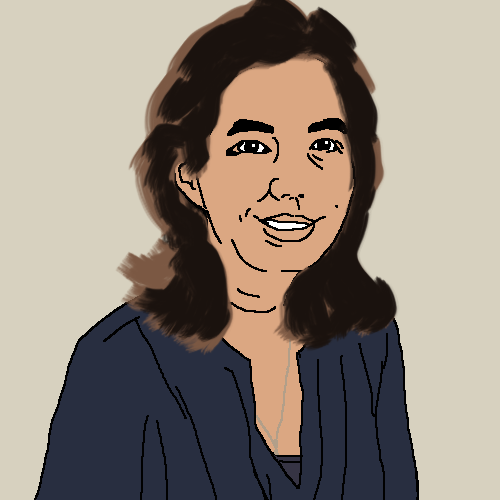 Fei Fei Li, professor at Stanford University and director of the Stanford Artificial Intelligence Lab, is a pioneer and leader in AI. Around a decade ago, she co-created ImageNet, a visual recognition data base that began the deep learning revolution we are now seeing unfold.
While her research is multidisciplinary, encompassing AI, machine learning, computer vision, as well as cognitive and computational neuroscience, Li and her team are front runners in their push to counter algorithm bias; that is, human bias that is unintentionally incorporated into machine algorithms. A prominent example is a project created with her student, Timnit Gebru, called Gender Shades that highlighted racial bias in commercial face-recognition algorithms.
Li is also known for her non-profit work and is co-founder of AI4ALL, an organization dedicated to boosting diversity and inclusion in AI education, research, development, and policy. Their mission is to educate the next generation of AI technologists, thinkers and leaders by promoting diversity and inclusion through human-centered AI principles.
Theresa Tanenbaum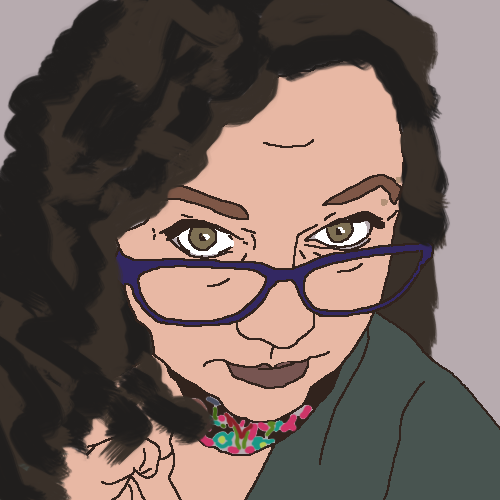 An assistant professor at the University of California-Irvine, Theresa Tanenbaum is a researcher, teacher, artist, and activist. A founding member of the Transformative Play Lab, her research is centered around immersive game play; specifically, designing games and digital storytelling systems that leverage tangible objects to give people a gateway into fictional worlds, literally bringing a player into the game.
Aside from her innovative digital explorations, Tanenbaum has been instrumental in her advocacy work for more inclusive name change policies within the publishing world. As a trans scientist, Tanenbaum said that one of the first things she did after transitioning was to look into updating her scientific record. "Why wouldn't there be some provision in the publishing world to allow for this?" she said in an interview with ASN. "And I discovered exactly how naïve I had been."
Within the realm of academic publishing, outdated practices and rigid assumptions have made name changes on published bodies of work near impossible, creating problems for many who wish for their professional work to accurately reflect who they are and avoid breaks in their record, which can be harmful to professional development. As part of a working group of roughly 34 other academic scholars from diverse subject areas, Tanenbaum has helped kick-start a campaign to push publishers to adopt universal and anonymous name changes on published bodies of scientific work. Since its onset in 2019, a number of prominent scientific publishers have begun to adopt these policies, paving the way for meaningful change.
Hannah Kabir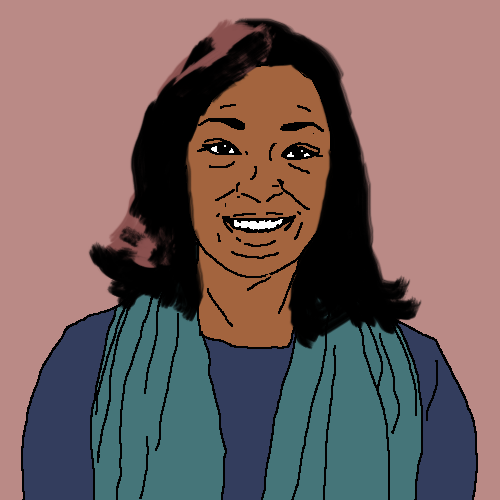 Hannah Kabir, a self-made entrepreneur and global change maker, is founder and CEO of CREEDS Energy, which she established in 2012 to develop Nigeria's renewable energy sector. The company provides clean and affordable energy to under-served, off-grid communities, providing power for clinics, schools, households, and small businesses across the country. The firm has also spearheaded the Light A Home Project; an initiative designed to alleviate electricity poverty within three pilot communities in the Federal Capital Territory using renewable energy technology.
With an Master's degree in renewable energy and enterprise management, Kabir has turned her passion into action with over ten years' experience that spans diverse sectors, including telecommunications, information and communications technology, renewables and clean energy technology. She works daily to build an efficient, energy-rich, green economy, which she also achieves through guiding policy development and discourse across the renewables sector, specifically on off-grid, backup and rural electrification implementation strategies within Nigeria.
Through TechWomen — a program that aims to empowers the next generation of women STEM from Africa, Central and South Asia, and the Middle East — Kabir supports and encourages young girls and women to embrace STEM career paths.
Article contributed by Aaron Brown and Victoria Corless with artwork by Kieran O'Brien