Today, graphene is considered one of the most promising new-generation materials in the field of nanotechnology with almost unlimited opportunities for application. The extraordinary thermal, electrical, mechanical and optical properties that it exhibits makes it an ideal starting point for the development of a wide range of products with enhanced properties for high performance applications. The combination of graphene with polymers yields the most versatile materials and opens endless possibilities for the design of novel composite materials. Furthermore, the use of water based techniques for their production provides the environmentally friendly aspect to both, processes and products.
Recently, a team led by Dr. Radmila Tomovska from the POLYMAT Institute of the University of the Basque Country, has presented a complete and comprehensive overview on the state-of-the-art of waterborne polymer/graphene nanocomposites focusing on high performance coatings and adhesives.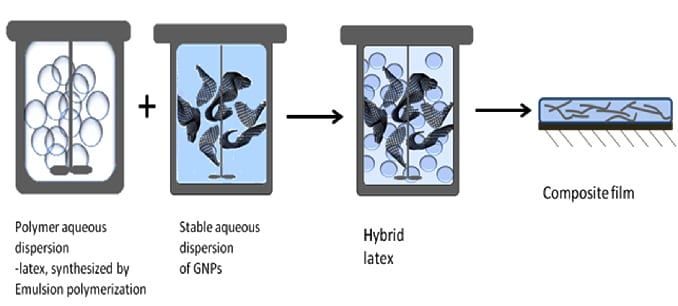 Two emulsion methods can be used in the preparation of nanocomposites: on one hand, the emulsion mixing technique as a simple mixing of pre-prepared waterborne polymer nanoparticles with aqueous graphene dispersions; and on the other hand in-situ emulsion polymerization of dispersed monomer droplets within aqueous dispersions of graphene materials. Both of them produce hybrid aqueous dispersions, from which final composite materials with enhanced properties can be formed by water evaporation.
The team reports on how the presence of small amount of graphene within the polymer matrix brings added value to the final materials, leading to new application opportunities of the water-borne composites: reinforced coatings, protective electro-magnetic shielding coatings, electrically conductive pressure sensitive adhesives for touch screen applications, flexible electronics, flame-retardant materials, and much more.