IR and Raman spectral imaging can distinguish between tissue types, disease types and stages, and even identify the primary tumors from spectral patterns observed in metastatic cells. Furthermore, these techniques can be used in the detection of circulating tumor cells.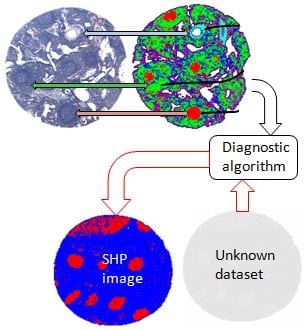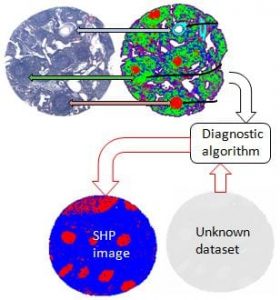 During the last 15 years, vibrational spectroscopic methods have been developed that can be viewed as molecular pathology methods that depend on sampling the entire genome, proteome and metabolome of cells and tissues, rather than probing for the presence of selected markers. The main difference compared to established methods is that no morphological information and no staining reagents are required, since IR and Raman spectra solely rely on molecular and biochemical features that can be probed in a non-destructive way. Pixel by pixel, the inherent spectral signatures of the biochemical components of a tissue can be detected.
In a review article, a team of scientists from Northeastern University in Boston (USA), the Institute of Photonic Technology in Jena, and the University Jena (Germany) give an overview on the present state of-the-art of "molecular pathology" provided by vibrational micro-spectroscopy. The authors introduce the methodological background and fundamentals and discuss results in the context of spectral histopathology.
Vibrational spectroscopy can be observed in both absorption (IR absorption spectroscopy) or in light scattering (Raman spectroscopy). Every molecule exhibits a distinct and specific fingerprint spectrum in each of the techniques that allows identification and quantitation of the molecular compound. For a complex sample, such as human cells or tissues, the observed IR or Raman spectra are a superposition of all the spectra of the individual biochemical components. Modern mathematical data analysis methods and computer algorithms are able to decode these complex spectral signatures so that the spectral methods are now poised to enter the mainstream diagnostic arena.
The authors report on a number of intriguing results, for example, how metastases could be identified in lymph nodes and brain tissue, and the primary tumor could be determined. Using the vibrational spectroscopy, the source of lymphocyte activation can be traced and different cancer types such as squamous cell carcinoma and adenocarcinoma can be distinguished without the use of morphological information. In addition, it enables the detection of early stage abnormalities of oral and cervical mucosa – useful for screening applications. Extremely promising for the detection of circulating tumor cells is the fact that different cell types can be distinguished at the single cell level.
The authors also discuss what needs to be done to transfer the vibrational spectroscopic approaches into clinical diagnosis and give an outlook. For example, robust models based on retrospective studies are needed to improve diagnosis and prognosis for new cases; and Raman imaging data acquisition needs a further speed up. Dedicated Raman fiber optic probes for real-time, in vivo applications could even enable optical biopsies before and without surgery.