Despite all the discussions surrounding plastic waste and its detriment to the environment, we continue to use more and more plastic every year. Of more than 200 million tonnes of plastics produced worldwide annually, 6 to 26 million tonnes end up in the oceans, 70% of which sink to the seabed. According to the Ellen MacArthur Foundation, there will be more waste than fish in our oceans by 2050.
Beginning in 2021, the European Commission plans to ban the production of disposable items made from plastics, which is an important step towards waste prevention. Other solutions such as biodegradable plastics are also promising, but they have a market share of less than 0.2% in Europe. In addition, they are produced petrochemically, which is no longer a viable option in a world aiming to become carbon neutral.
Currently, starch and cellulose are the main, raw materials for bio-based plastics, extracted from plants such as corn or cotton and hemp, which contain a high cellulose content. Other potential raw materials, such as chitin and chitosan, lignin, casein, gelatine, cereal proteins, and vegetable oil, are also suitable for the production of bio-based plastics. However, agricultural products require arable land, water, and pesticides.
Bacteria and yeast provide a plastic and leather alternative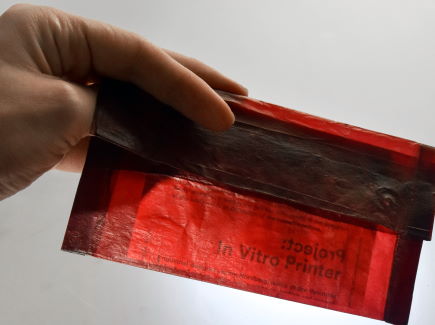 Roza Janusz is a Polish designer and inventor of an environmentally friendly and edible packaging material called 'Scoby', which she created as part of her graduate project at the School of Form in Poznań, Poland. As a result of its success, Janusz founded MakeGrowLab together with environmental scientist, Josh Brito.
Janusz claims the material can prolong the durability of a food product and then be disposed of in a sustainable manner.
"Scoby is an organic material which is durable and edible. It is a great oxygen barrier, which is the main reason why many products are stored in plastic and not paper, "she explains. "This material can be grown locally, anywhere in the world, with little space and local resources. This is why we invented Scoby material farming. It doesn't require a lot of space, sunlight, time, and pesticides to grow and it can be used as packaging, leather, and several other textiles."
The novel material is a membrane made of bacteria and yeast, which is created through a fermentation process. The membrane is grown in shallow containers by feeding agricultural waste to bacteria and yeast over a period of two weeks, after which it is fermented at 25°C before being placed into molds.
At the end of its use, the material can be composted and used to grow more food, which will once again become waste, creating a symbiotic circular process. The bio-material has already found use as a sustainable alternative to plastic packaging and the company has recently released 'TransLeather', a plastic-free vegan leather, which is already gaining acclaim in the fashion industry.
This innovative strategy may actually be an answer to the future of zero-waste packaging without polluting the environment, and even comes with the added benefit of regenerating soil.