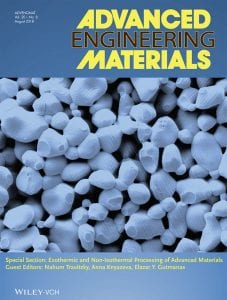 High-performance inorganic materials, notably advanced structural ceramics, ceramic-matrix composites, metal-intermetallic composites, and interpenetrating-phase composites contribute strongly to technological development in various engineering sectors. However, the commercial viability of these high melting, hard, and wear-resistant materials is limited by the difficulty and high cost of final shape processing. Innovation in materials processing is thus a crucial area and the main challenge in development of advanced monolithic and composite materials.
One attractive approach to ceramic- and intermetallic-based materials processing is the use of the high exothermic heat of their formation. Self-propagating High-temperature Synthesis (SHS) relies on the ability of highly exothermic reactions to become self-sustaining. SHS (also called combustion synthesis) offers the advantages of energy saving and reduction of processing costs, as well as short processing times that lead to materials with unique microstructures and properties. The greatest benefit of combustion synthesis may be achieved when the exothermic heat of the synthesis reaction is coupled to externally applied pressure to cause densification of the reaction product. The progress made in the recent years in the field of exothermic SHS processing of various classes of advanced materials is reflected in the present Special Section of Advanced Engineering Materials, guest-edited by Nahum Travitzky (Erlangen-Nuremberg), Anna Knyazeva (Tomsk), and Elazar Y. Gutmanas (Haifa). Researchers from eight countries (Germany, Russia, France, USA, Israel, Greece, UK and China) contributed Reviews and Original Articles dealing with various aspects of SHS and non-isothermal materials processing.
Read the following articles for free for a limited time!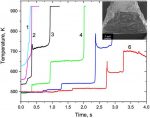 The Solid Flame Phenomenon: A Novel Perspective
by Alexander S. Mukasyan, Christopher E. Shuck, Joshua M. Pauls, Khachatur V. Manukyan, Dmitry O. Moskovskikh, Alexander S. Rogachev
SHS of Silicon‐Based Ceramics for the High‐Temperature Applications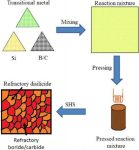 by Stepan Vorotilo, Artem Y. Potanin, Ivan V. Iatsyuk, Evgeny A. Levashov
SHS Synthesis and SPS Densification of Nanometric Tungsten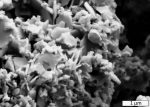 by Sarah Dine, Elodie Bernard, Nathalie Herlin Boime, Christian Grisolia, David Tingaud, Dominique Vrel