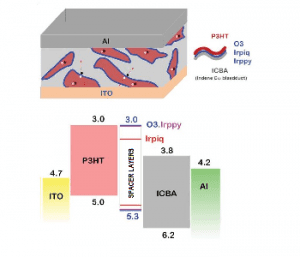 Inserting a spacer layer between the donor and the acceptor material of organic photovoltaic (OPV) devices enhances their power conversion efficiency (PCE). Wanyi Nie and colleagues used four different spacer layer materials to avoid charge recombination at the donor–acceptor interface. This increased the PCE of an OPV device from 4.1% to 7.25%. The method of inserting spacer layers could be applied to hybrid material systems, e.g., perovskite solar cells or quantum dots for highly efficient optoelectronic devices.
To achieve efficient energy conversion in organic electronics, multiple exciton and charge migration, separation, and transfer processes have to occur at their interfaces. The dynamics of these processes need to be optimized to reduce competing, undesirable charge recombination. Hence, this is a major goal in order to improve electronic devices.
The researchers explored LiF, a terthiophene derivative, and two iridium complexes as spacer layers. These materials suppress charge transfer state recombination, using different, unique charge separation mechanisms, which are dependent on the thickness of the spacer layer. Used in a bulk heterojunction device architecture, the terthiophene derivative achieved the highest PCE of the explored spacer materials.
Advanced Science is a new journal from the team behind Advanced Materials, Advanced Functional Materials, and Small. The journal is fully Open Access and is free to read now at www.advancedscience.com.