Researchers in China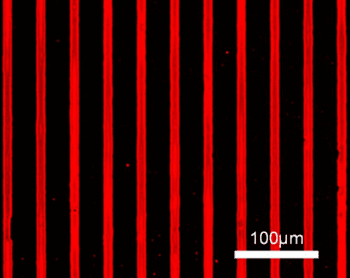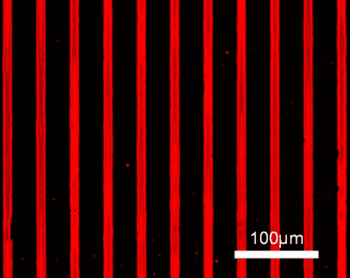 have developed a simple technique for patterning functional organic materials over a large area via an indirect, solution processable method. This method overcomes the limitations of other direct patterning methods, and is compatible with photolithography and other direct patterning technologies. Solution-processing is desirable for low-cost, large area devices, such as organic transistors.
This new method has been demonstrated using rhodamine 6G-dyed dimethyl sufoxide (DSMO) and aluminium-tris(8-hydroxychinolin) (Alq3) on octadecyltrichlorosilane modified SiO2  and polyethylene terephthalate templates. First, the template films are patterned with gold using a standard photolithography approach. Then, the patterned films are processed for 10 minutes in an emulsion of the target functional molecule (rhodamine 6G or Alq3) and a solvent such as hexane. The emulsion favorably adheres to the gold patterning. Once the device is dried, the functional molecule is left behind on the patterned surface. The concept can be extended for various different substrates and functional molecules by considering the wettability of the template and solvent.
Direct photolithography of organic functional materials can damage the functional material and lead to degradation of the device performance. Alternative direct approaches do not produce a high enough yield, are not scalable, and additionally do not produce patterns with the required resolution. For large-scale production of high-quality organic electronic devices, large area and high resolution patterning methods are required.Due to the excellent confinement in this method, the coffee-ring effect is suppressed compared to inkjet printing methods.