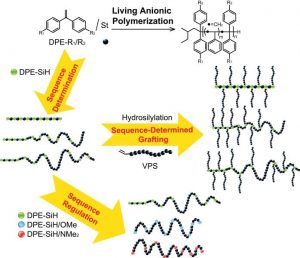 Macromolecules with specific sequential arrangements of the monomer units have several amazing features, similar to DNA and RNA. As a result, polymer chemists have concentrated on the synthesis of sequence-controlled polymers, regarded as the "Holy Grail" of polymer science.
In a Talent article recently published in Macromolecular Chemistry and Physics, Hongwei Ma and coworkers describe the status-quo of recent advances in sequence control in polymer synthesis. They then report on the preparation of sequence-controlled polymers by anionic copolymerization of styrene and 1,1-diphenylethylene (DPE) derivatives.
The authors describe the influence of the comonomer feed ratio on the microstructure of the formed copolymers. Using the timing sample method, they found that both alternating and gradient copolymers can be synthesized from different styrene/1,1-diphenylethylene ratios.
The results open up new perspectives for the design of novel functional sequence-controlled polymers.
About the author
About Talent articles
Talent is an article type published in in Macromolecular Chemistry and Physics and dedicated exclusively to bright scientists in the first years of their independent career. Young scientists who are developing new, original ideas in any field of polymer science are invited to provide an overview of their own work.Interested in the Talent article collection? Then click HERE.