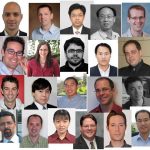 What's going on in polymer science lately? Are young people still excited by this field of research?
The answer is yes!
A special issue in Macromolecular Rapid Communications highlighting the outstanding research of 21 young scientists from around the world is the best evidence. Three guest-editors from three different continents have compiled this great issue which reflects the diversity and excitement of today's polymer science. Jean-Francois Lutz (Strasbourg, France), Shiyong Liu (Hefei, China) and Brent Sumerlin (Dallas, USA) – all of them well established scientists – are still young enough to know the latest generation of polymer scientists from their post-doc times.
A selection of what looks to be a bright future in polymer science can now be accessed for free.
 Enjoy the reading!
The Macromolecular Journals also sponsor prizes for the best poster presentations at selected international conferences, preferably awarded to promising younger scientists. Find more information on the Macro-Awards here.