Photonic crystals are nanostructured materials with numerous applications, including use in optical filters, resonant cavities, and low and high reflection coatings. The diversity of these optical materials has created a demand for tunable and scalable methods for producing photonic crystals with varied properties.
The self-assembly of block copolymers has been applied as a useful "bottom-up" approach for the fabrication of photonic crystals. Advancements in polymerization techniques have allowed for the synthesis of polymers with tunable molecular weight, shape, and branching, thereby leading to the production of materials with controllable compositions, structures, and optical properties. However, the application of linear block copolymers (LBCPs) to materials with domain spacings in the visible light region (>70 nm) remains challenging due to difficulties related to synthesizing ultra-high molecular weight samples and relatively slow processing.
In a recent Feature Article published in Macromolecular Rapid Communications, Liberman-Martin, Chu, and Grubbs review developments in brush block copolymer (BBCP) self-assembly toward photonic crystal applications. Compared to LCBPs, BBCPs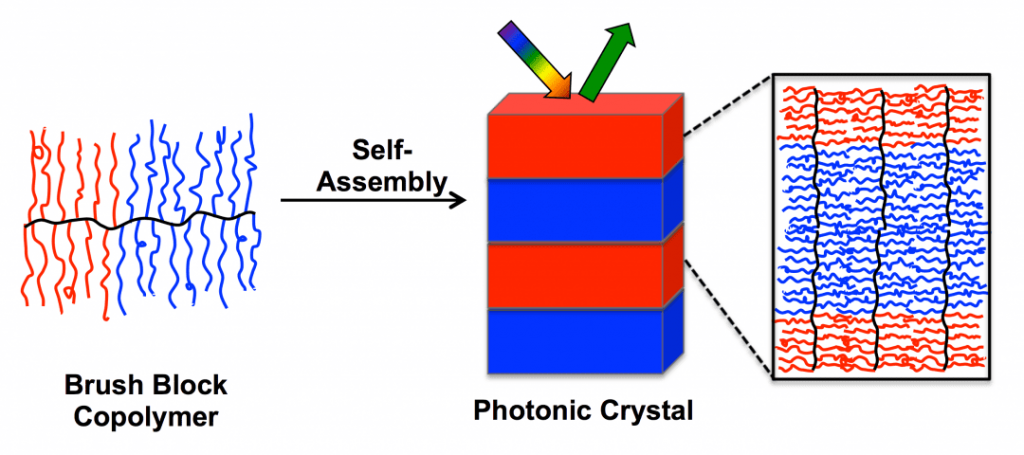 have densely-grafted architectures that offer rapid self-assembly to structures with large domain sizes that can reflect light in the visible and near-infrared region. The authors introduce fundamental principles of photonic crystal design, and describe the unique properties provided by BBCPs compared to LCBPs, including relatively extended conformations and reduced chain entanglement. Synthetic strategies toward BBCPs, as well as guidelines for selecting the appropriate method to form a desired architecture, are outlined. The authors also provide a detailed discussion of examples of BBCP photonic crystals, including the effects of monomer structure, molecular weight, and annealing method, on morphology (typically lamellar) and photonic properties. Despite significant progress in polymer chemistry toward the synthesis of BBCPs, minimizing dispersity at ultra-high molecular weights and the incorporation of some functional groups remain challenging. Efforts to post-synthetically tune BBCP optical properties have led to the development of BBCP blending strategies, and blends with linear polymers, brush polymers, and nanoparticles are described.
The authors conclude with an outlook for research related to the self-assembly of BBCPs. This Feature Article comes at a time where the field is rapidly developing, and questions regarding the conformation of BBCPs and the formation of new morphologies provide further research opportunities.