Engineering bone tissue models that are physiologically and clinically relevant is essential for understanding normal and aberrant bone formation, as well as for evaluating promising drug formulations on a large scale, and without the need for animal models. Importantly, such models will eventually help with developing personalized tissues for transplantation and regenerative medicine. As such, there is a great need for in vitro models that can closely mimic the architecture and composition of normal bone, and that can sustain the growth of multiple cell phenotypes in order to simulate different biological interactions.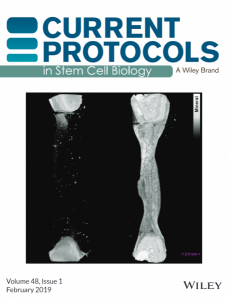 Iordachescu et al. from the laboratory of Liam Grover at the University of Birmingham and Philippa Hulley at the University of Oxford, funded by an NC3Rs project, have developed an organotypic culture system that allows the production of bone tissue features at the centimeter scale. They used composite, calcium phosphate-strained fibrin gels that can self-organize in the presence of osteoblastic cells, which replace the initial matrix and create basic hierarchical units as seen in vivo. These structures can be modified to produce a range of other tissues that require such organization. The tissues can be cultured for extensive periods of time (in excess of a year), during which they reach a high mineral content and develop a population of terminally differentiated, osteocytic cells.
The set of protocols, published as cover article in the latest issue of Current Protocols in Stem Cell Biology, document the methodology for reproducing the bone culture model, and captures know-how that will enable other users to modify the culture system with alternative cell populations. It also discusses the appropriate selection of physicochemical characterization methods based on the feature of interest, and provides users with a platform to further develop the model into a tool that may facilitate clinical translation, from toxicology to regenerative medicine and drug screening.