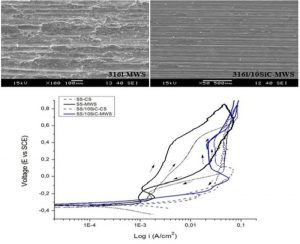 The combination of two or more different materials to produce composite materials offers a range of advantages. For instance, the application areas of powder metallurgy austenitic stainless steels in high wear resistance requiring applications is limited since they are mostly used in applications requiring corrosion resistance, oxidation resistance and thermal fatigue resistance. They are mainly used in aerospace, medical, offshore and chemical industries. However, it is desirable to have PM 316L compacts with improved wear resistance in some applications.
Combining a steel matrix with hard ceramic particle additions leads to wear-tolerant metal-matrix composites (MMC). In general, the final material will be harder and more wear resistant when the matrix/reinforcement interface is clear and good bonding of them is obtained. The good bonding of steel matrix/ceramic particle was achieved in a study by Onur Ertugrul et al. The combination of 316l stainless steel with SiC particles is presented. A new MMC has been developed composed of SiCp reinforced PM 316l materials with acceptable corrosion properties and increased wear resistance and has potential to take the place of various PM stainless steel materials.
Both conventional heating and microwave heating methods are used in order to produce composite samples. The microwave heating process is a time and energy saving process which is an alternative to conventional methods for the production of not only uni-phase materials but also MMCs. The researchers have done not only mechanical but also detailed corrosion and wear property characterization studies. The researchers concluded that the reinforcing mechanism of additions of ceramic particles enables composite materials with superior wear and corrosion properties. The researchers assume a high potential of reinforcing effect of SiC particles when added 10 % vol. value of the steel matrix. The mechanism of chemical interactions between stainless steel matrix and silicon carbide particles interface and filling of the porosities are key factors in the combination of wear and corrosion properties.