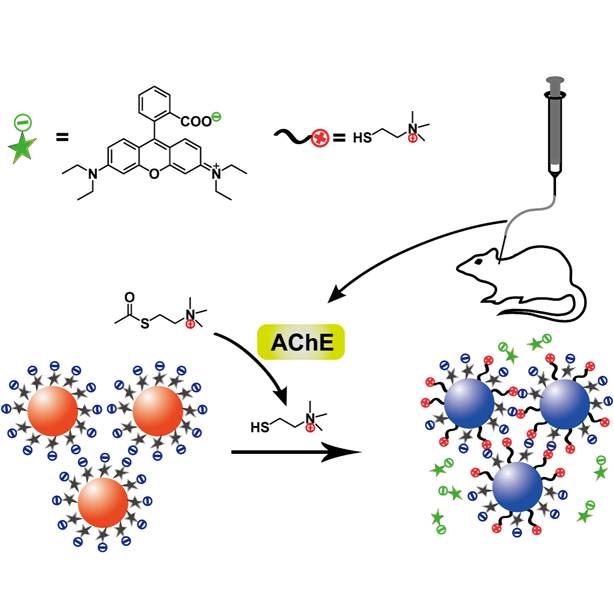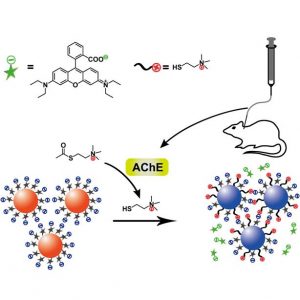 Acetylcholinesterase (AChE) is an enzyme that can catalytically break down acetylcholine at cholinergic synapses, resulting in the termination of synaptic transmission. It had been shown that the level of AChE in the cerebrospinal fluid of individuals suffering from Alzheimer's disease is significantly reduced. Therefore, a low level of AChE may indicate a risk or a preclinical stage of Alzheimer's disease. This information could be useful for early prevention and treatment of the disease. However, to date there is no accurate method for identifying Alzheimer's disease in an early or asymptomatic stage of the disease.
The clinical application of existing gold nanoparticle (AuNP)-based colorimetric assays is hampered by their moderate sensitivity and selectivity. Now, however, Xingyu Jiang and co-workers (National Center for Nanoscience and Technology, Beijing) have developed a novel AuNP-based assay highly sensitive to acetylcholinesterase (AChE). The fluorescence of Rhodamine B detached from Au surfaces is measured and simultaneously the color change of AuNPs solutions is known. 
This new assay provides a detection limit (0.1 mU/mL) much lower than that of all existing probes for AChE. Such a high sensitivity allows the measurement of AChE in the cerebrospinal fluid even after being diluted more than a thousand times. In this manner, false positive results for other components like biothiols in real samples can be ruled out and relevant clinical tests are rendered possible. The study shows that the level of AChE in model mice that suffer from Alzheimer's disease (AD) is lower than that in healthy mice. The assay also allows the progression of the disease and the effect of drug treatments to be studied by monitoring the AChE level in the model mice treated with different drug dosages.