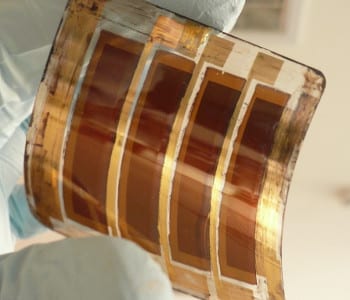 A new class of photovoltaics, based on perovskite materials, has recently come to the fore that is able to combine the benefits of high power conversion efficiencies with materials deposited from liquid precursor solutions, suited for developing printed solar cells.
Newly published research has now described the development and combination of low temperature deposition and processing techniques (e.g. screen printable pastes, atomic layer deposition, low-temperature UV irradiation, laser patterning) to the thin layers of such devices, including a nano-crystalline scaffold layer for the perovskite that significantly improves stability, making it possible to fabricate 8.4% efficient solar on transparent plastic films with excellent flexibility (they can be bent down to ~ 1 cm radii of curvature).
The fabrication processes are applicable to large areas, which the group responsible believes demonstrates the first example of a flexible perovskite photovoltaic module (with 3.1% efficiency) and which they believe represents an exciting milestone and a first step towards the aim of high-throughput roll-to-roll production for this new technology.