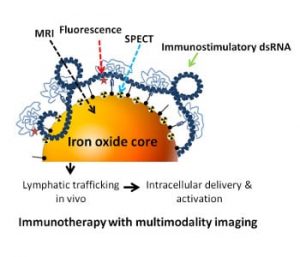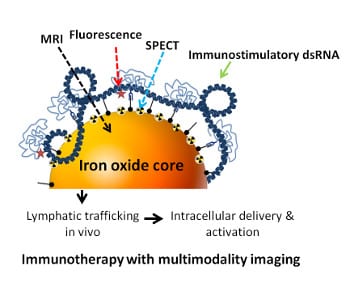 A new class of immune-activating nanocarrier is envisioned by researchers collaborating between Spain and the UK with the ideal nanoscale dimensions to enter the lymphatic system and directly deliver poly(I:C), a synthetic dsRNA clinically applied as an immunomodulator, to the lymph nodes.
This new nanocarrier can simultaneously act as a contrast agent for fluorescence microscopy, magnetic resonance imaging, and radionuclide imaging.
The nanocarrier reaches the target receptor (endosomal Toll-like receptor 3) in macrophages and dendritic cells, key cellular components of the immune system, to trigger activation of a strong innate immune response. Since the lymph nodes are common sites of cancer metastasis and act as the "command centers" of the immune system where these and other types of immune cells in response to poly (I:C) can induce specific immune responses that are effective against viruses, bacteria and tumor cells, these nanocarriers can be used for a variety of therapeutic immunological and diagnostic applications.