Living anionic polymerization is a powerful method to create novel polymer architectures and high molecular weight polymer structures.
Professors Holger Frey and Takashi Ishizone state, "..[this] living synthesis technique and its manifold consequences continue to inspire researchers in diverse areas ranging from polymer chemistry to nanotechnology, soft matter physics, biology and pharmaceutical sciences, to name only a few relevant fields.".
"Industrially, each year more than 700 000 tons thermoplastic elastomers based on triblock copolymers are prepared by carbanionic polymerization. Several million tons of poly(ethylene glycol) and copolymers with propylene oxide are produced by the living oxyanionic polymerization. These examples clearly demonstrate the immense industrial significance of anionic polymerization methods, whenever precise control of chain length and terminal functionality is required or specific architectures are vital."
Inspired by the 60th anniversary of anionic polymerization in 2016, Holger Frey and Takashi Ishizone organized two excellent special issues for Macromolecular Chemistry and Physics that demonstrate the advantages of the method and its potential for the future.
The first issue appeared in June 2017 (issue 12) and highlights the work of leading scientists mainly based in Asia.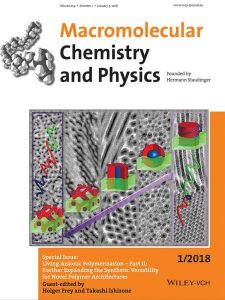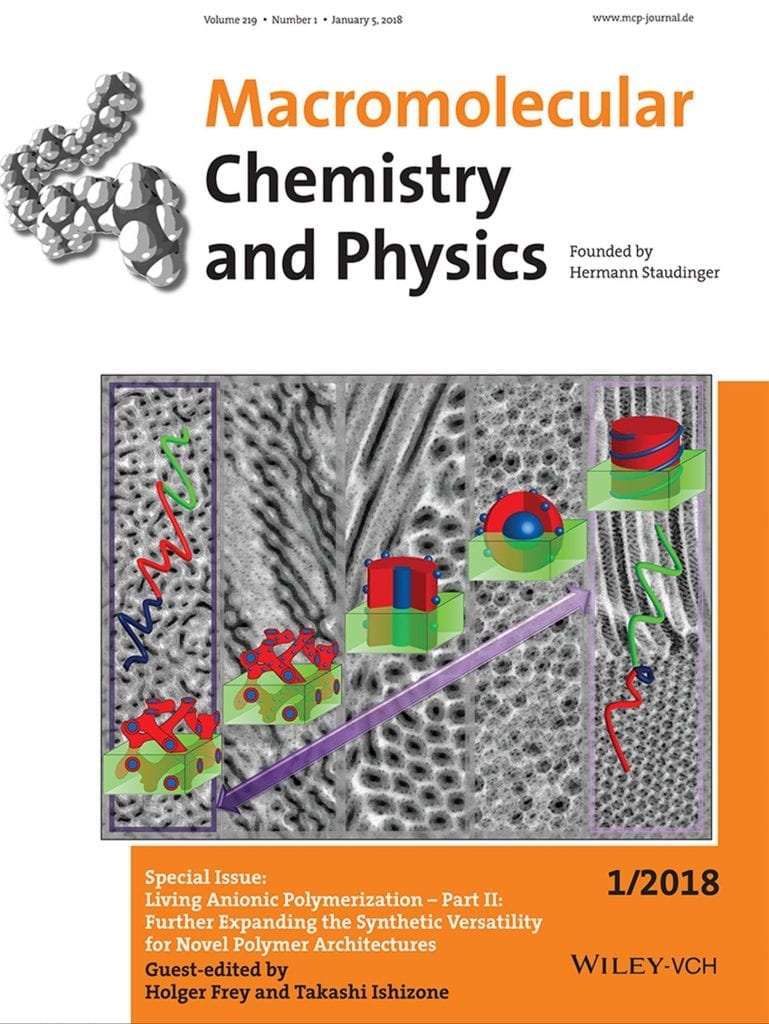 We are now proud to present the second of the two special issues that showcases the work of prominent scientists mainly based in Europe and USA .
The issue is available for FREE until December 31, 2018!
Contributions to the issue:
Living Anionic Polymerization – Part II: Further Expanding the Synthetic Versatility for Novel Polymer Architectures
by Holger Frey and Takashi Ishizone
Design and Synthesis of Multigraft Copolymer Thermoplastic Elastomers: Superelastomers
by Nam-Goo Huiqun Wang, Wei Lu, Weiyu Wang, Priyank N. Shah, Konstantinos Misichronis, Nam-Goo Kang* and Jimmy W. Mays*
Four-Phase Morphologies in Blends of ABC and BAC Triblock Terpolymers
by Taida Gil Haenelt, Clarissa Abetz and Volker Abetz*
Systematic Variation of the Degree of Branching (DB) of Polyglycerol via Oxyanionic Copolymerization of Glycidol with a Protected Glycidyl Ether and Its Impact on Rheological Properties
by Christian Schubert, Martina Schömer, Marvin Steube, Stefan Decker, Christian Friedrich and Holger Frey
Revisiting the Anionic Polymerization of Methyl Ethacrylate
by Justin G. Kennemur, Frank S. Bates and Marc A. Hillmyer
End-Functionalized Chains via Anionic Polymerization: Can the Problems with Using Diphenylethylene Derivatives be Solved by using Bisphenol F?
by Antonella Pagliarulo and Lian R. Hutchings
Hydrocarbon-Soluble Piperazine-Containing Dilithium Anionic Initiator for High Cis-1,4 Isoprene Polymerization
by Alison R. Schultz, Sachin Bobade, Philip J. Scott and Timothy E. Long
Complex Brush-Like Macromolecular Architectures via Anionic and Ring Opening Metathesis Polymerization: Synthesis, Characterization, and Thermal Properties
by George V. Theodosopoulos, Spyridoula-Lida Bitsi and Marinos Pitsikalis
Networks Based on "Core-First" Star Polymers End-Linked Using a Degradable Ketal Cross-Linker: Synthesis, Characterization, and Cleavage
by Eleni J. Kepola and Costas S. Patrickios
Sequential Bulk Anionic Polymerization of α-Methylstyrene and Isoprene to Form Diblock and Triblock Copolymers
by Yifan Li and Daniel M. Knauss
Living Anionic Polymerization of 4-(1-Adamantyl)-α-Methylstyrene
by Shingo Kobayashi, Hiroshi Kataoka, Raita Goseki and Takashi Ishizone
Design of Optimized Reaction Conditions for the Efficient Living Anionic Polymerization of Cyclopropane-1,1-Dicarboxylates
by Antoine Benlahouès, Blandine Brissault, Sylvie Boileau and Jacques Penelle
Anionic Polymerization of 2-Hexyl[3]dendralene
by Yuki Takamura, Katsuhiko Takenaka, Tomoyuki Toda, Hiroki Takeshita, Masamitsu Miya and Tomoo Shiomi
4-Styrenesulfonyl-(2-methyl)aziridine: The First Bivalent Aziridine-Monomer for Anionic and Radical Polymerization
by Tassilo Gleede, Elisabeth Rieger, Tatjana Homann-Müller and Frederik R. Wurm
Polyvinylpyridine-Grafted Block Copolymers by an Iterative All-Anionic Polymerization Strategy
by Michael Appold, Christian Rüttiger, Björn Kuttich, Bernd Stühn and Markus Gallei
Dialkylmagnesium-Promoted Deprotonation of Protic Precursors for the Activated Anionic Ring-Opening Polymerization of Epoxides
by Kévin Roos, Anne-Laure Wirotius and Stéphane Carlotti
Enjoy the reading!
Interested in contributing to Macromolecular Chemistry and Physics?
Submit HERE your next paper to the journal. We look forward to it!