In the past decades, the fast industrialization and population growth has fueled the global energy consumption. Most of the energy relies on fossil energy resources which causes critical issues such as shortage of resources, environment pollution and global warming. An effective way to alleviate this problem is to harvest energy from various renewable environmental friendly energy resources. Over the past few years, piezoelectric nanogenerators are emerging as promising energy harvesting tools for scavenging and converting mechanical energy into electrical energy. Numerous piezoelectric nanostructures have been used to construct the nanogenerators; for example, perovskite piezoelectric materials, which have a high piezoelectric coefficient and are more suitable for piezoelectric nanogenerators.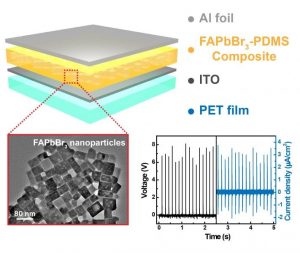 Recent years, the emergence of organic-inorganic lead halide perovskite materials has drawn the increasing attention for their promising characteristics in the application of highly efficient photovoltaic devices for energy harvesting. So far, most studies of organic-inorganic lead halide perovskites focus on photovoltaic applications, however, the piezoelectric properties of these materials is scantly studied. Organic-inorganic lead halide perovskites materials have a cubic perovskite structure which can lead to ferroelectric polarizations like other types of materials with the same structural characteristics.
Ding and colleagues have fabricated a hybrid piezoelectric nanogenerator based on a composite of piezoelectric formamidinium lead halide perovskite (FAPbBr3) nanoparticles and polydimethylsiloxane (PDMS) polymer. The piezoresponse force spectroscopy (PFS) measurements reveal that the FAPbBr3 nanoparticles contain well-developed ferroelectric properties with high piezoelectric charge coefficient (d33) of 25 pmV-1. The flexible device exhibits high performance with a maximum recordable piezoelectric output voltage of 8.5 V and current density of 3.8 μAcm-2 under periodically vertical compression and release operations. The alternating energy generated from nanogenerators can be used to charge a capacitor and light up a red light-emitting diode (LED) through a bridge rectifier. This result innovates and expands the feasibility of organic-inorganic lead halide perovskite materials for application in a wide variety of high-performance energy harvesting devices.