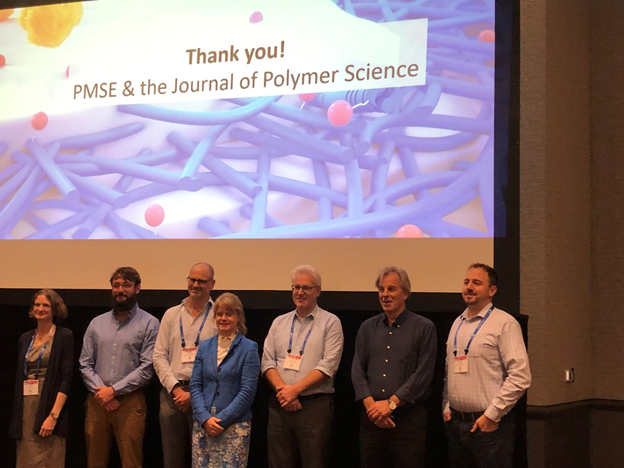 The Journal of Polymer Science Innovation Award was established in 2012 and honors polymer scientists under the age of 40 for their significant research innovations and achievements in the field. This year, the 8th award was presented to Patricia Y.W. Dankers at the 2019 Fall ACS meeting in San Diego, CA.
Currently, she is a full professor of Biomedical Materials at the department of Biomedical Engineering of Eindhoven University of Technology. The award was given on her pioneering research approach at the interface between supramolecular polymers and tissue engineering. As part of the award, a symposium in association with the Polymeric Materials Science and Engineering (PMSE) Division of the ACS was held in recognition of Patricia's outstanding contributions.
Patricia studied chemistry at Radboud University in Nijmegen, the Netherlands. In 2006, she received her first doctorate degree Eindhoven University of Technology under supervision of prof. E.W. (Bert) Meijer and her second Ph.D. in medicine at the University of Groningen.
Over the course of the afternoon, a number of Patricia's friends and collaborators provided the audience with new findings on a variety of topics. The speakers were Tanja Weil (Ulm University), Matthew J. Webber (University of Notre Dame), Paul H. J. Kouwer (Radboud University), Pascal Jonkheijm (University of Twente), Matthew Brandon Baker (Maastricht University), Bert Meijer (Eindhoven University of Technology); subjects included biomaterials and applications in biomedicine as well as tissue engineering. Of course, the best was saved for the end of the day when Patricia gave her award lecture entitled "Supramolecular polymeric materials as synthetic extracellular matrices: Importance of dynamics and robustness".
Currently, her research group designs and synthesizes bio-inspired functional biomaterials. The research themes include developing methods to specifically modify biomaterials surfaces and translating them to applications in the field of regenerative medicine that are mainly for cardiovascular and renal applications.
In addition, the researchers in her lab also develop biomaterials to intervene in processes related to kidney disease. The recent development using different additives demonstrates the feasibility of incorporation of antifouling properties in supramolecular elastomers and shows that translation from simple 2D solution‐cast films to 3D electrospun scaffolds is not trivial with respect to additive presentation and functionality.
Congratulations, Patricia, on a well-deserved award!