On 8-10 August 2019, Texas A&M University will welcome polymer scientists from the USA and abroad for an engaging two and a half days of talks.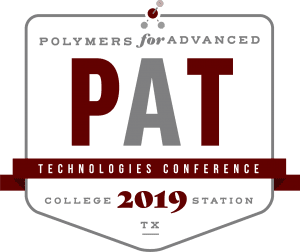 We are excited to announce that the 15th International Conference on Polymers for Advanced Technologies (PAT 2019) will take place in College Station, Texas on 8-10 August 2019. Chair Prof. Ravi Kumar and co-chair Prof. Karen Wooley have assembled a prominent list of speakers to showcase some of the very best polymer research from around the globe. Talks will focus on three main themes that represent impactful challenges that polymer scientists can help to address: Life and Health; Energy and Electronics; and Synthesis and Sustainability.
PAT conferences are associated with the journal Polymers for Advanced Technologies (Wiley) and are held on a biannual basis in locations that in the past have included Jerusalem (1987), Oxford (1993), Pisa (1995), Leipzig (1997), Tokyo (1999), Eilat (2001), Fort Lauderdale (2003), Budapest (2005), Shanghai (2007), Jerusalem (2009), Lodz (2011), Berlin (2013), Hangzhou (2015), and Manchester (2017).
During the conference, two prizes sponsored by Polymers for Advanced Technologies will be awarded. The Menachem Lewin Lifetime Achievement (senior) Award, which recognizes the career of an outstanding scientist associated with the journal; previous recipients have included Stan Penczek (2013), Moshe Narkis (2015), and Stanislaw Slomkowski (2017). The Menachem Lewin (junior) Award promotes promising young scientists who have demonstrated excellence in their academic achievements; previous recipients have included Hanying Li (2013), and Matthew Gibson (2015).