Our ability to perform surgery has advanced significantly over the last 30 years as with the advent of new, ground-breaking robotic technologies, procedures that once carried a high degree of risk are now becoming increasingly safer.
While the benefits of minimally invasive surgery are numerous and advancements are continually being made, technical challenges within this field still remain. One of the greatest hurdles is the ability to precisely control and manipulate small, surgical instruments with ease.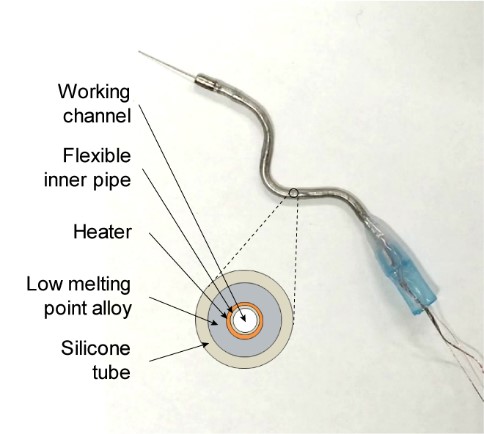 Inspired by recent soft robotic developments, Professor Bradley J. Nelson of the Multi-Scale Robotics Lab at ETH Zurich and Professor Dario Floreano of the Laboratory of Intelligent Systems at EPFL and co-workers have proposed a new device of viable stiffness which can be precisely shaped and controlled using an external magnetic field.
Applying a magnetic field to wirelessly steer flexible medical instruments through the human body is a promising new development to help increase the safety of surgical procedures by reducing the size of the device and the risk of perforation that can sometimes occur when using rigid tools. 
The device's minimum 2.3 mm diameter is possible thanks to a remote magnetic manipulation modality, which requires no mechanical structure to transmit the torque and force along the instrument body. This magnetic control of the device allows safe navigation along the intricate paths inside the human body, and enables careful application of forces when needed.
The team speculates that the development of such small, safe, and minimally invasive instruments will enhance the capabilities of the latest image acquisition and processing technologies.
In addition to improved dexterity and manipulation accuracy, these variable stiffness catheters could lead the way to partially automate and accelerate the progress of minimally invasive procedures, as the navigation task can be directly controlled by the system, thus minimizing the mental and physical strain put on the physician.
This technology could be applied to steer instruments safely and precisely through the vascular system or the gastrointestinal tract, and the integration of optical sensors, such as cameras, could create the opportunity to dramatically improve gastrointestinal endoscopy.
Kindly contributed by the authors.