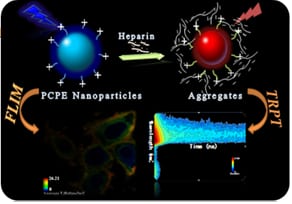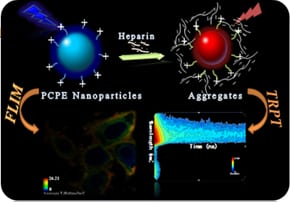 Recently, the research on conjugated polyeletrolytes (CPEs) applied for biosensing and bioimaging has become an active area. For biological analytes, sensing sensitivity often suffers from background interference. An effective strategy is to utilize time-resolved photoluminescent technique (TRPT), which requires a long-lived phosphorescence signal to eliminate short-lived background fluorescence interference.
Now the group of Zhao and Huang (Nanjing University of Posts & Telecommunications, China) and the group of Liu (National University of Singapore, Singapore) have reported, for the first time, the application of TRPT and fluorescence lifetime imaging microscopy (FLIM) for heparin sensing and bioimaging based on phosphorescent conjugated polyelectrolytes containing iridium(III) complexes to enhance the signal-to-noise ratio.
The groups showed this probe allowing heparin quantification in water and serum, which clearly indicates the potential clinical application, especially with time-resolved technique. This strategy will promote more significant development of CPE-based bioprobes for practical applications.