Cytometry Part A has recently published a Special Issue on High Throughput and High Content Imaging and Cellular Informatics (Part I) guest edited by Meredith E.K. Calvert, Alex M. Ward, Frederic Bard and Graham D. Wright.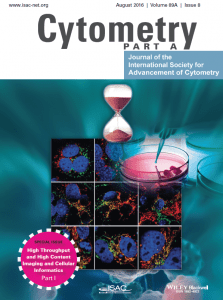 High throughput and high content imaging (HT/HC Imaging) is an indispensable tool in biological and biomedical research, bioengineering and drug discovery. The last twenty-five years have been pivotal in the development of this field, providing computational power, robotics and automation, and imaging techniques that seemed impossible only half a century ago. The inventors of the first compound microscopes in the 1590s and the father of microbiology Antonie van Leeuwenhoek could not have envisioned a better future for their creations and research field 300 years down the road.
In their editorial for this Special Issue "New developments and novel applications in high throughput and high content imaging" Meredith E.K. Calvert, Alex M. Ward, Frederic Bard, Graham D. Wright discuss the history of HT/HC imaging and four areas that have had a particularly significant impact on its rapid progression: (i) Reagents and assay tools, and the latest gene editing breakthroughs; (ii) Microscopy and optical advancements, and superresolution microscopy; (iii) Automation and robotics; and (iv) Computational advancements, since one of the major bottlenecks for most HT/HC imaging platforms is how to handle storage, processing, and analysis of ever larger datasets.
This will be a Special Issue in two parts; this first part includes 7 articles, 2 of which are reviews. Imaging cytometry remains a strong approach for HT/HC imaging, and both installments have a number of articles focusing on this, including three original articles describing novel applications of this technique that can be used to understand complex structure and cell-to-cell interactions in different types of cells and tissues and will be of great use for basic research and bioengineering of advanced biomaterials and drugs. With more data emerging in this area every day, this Special Issue provides a valuable update on the current state of affairs, and future challenges and directions for this young but expeditiously maturing field.