High refractive index (HRI) materials play an important role in optic-electronic devices. They can be widely applied as encapsulating materials to increase external quantum efficiency in OLED devices and to enhance conversion efficiency in solar cell devices. Furthermore, they are of high interest, e.g. as coating materials of micro-lenses, anti-reflection films in spectacles, in waveguides, and for organic lasers.
HRI materials can be divided into inorganic materials, nanocomposite materials and polymeric materials. Compared with other counterparts, the HRI polymeric materials are favored due to many advantages, like low cost, facile processability and high impact resistance. However, so far, easily prepared HRI polymers with RI values above 1.65, high transparency in the visible, and high processability for facile production into high quality thin films, are rarely reported.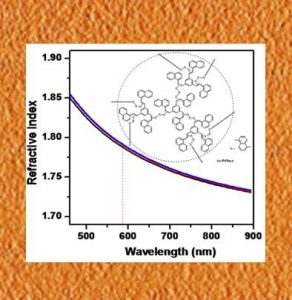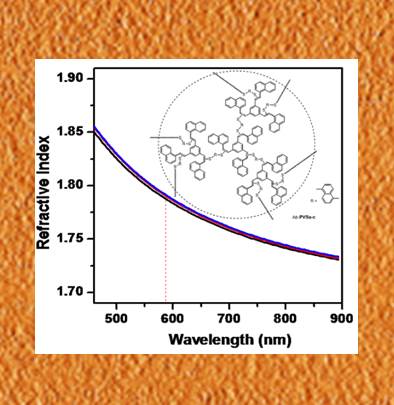 In a recent article published in Macromolecular Chemistry and Physics, Brigitte Voit and her research team pushed metal-free thiol-yne click reaction to its limits and were able to prepare naphthalene and phenyl group rich hyperbranched polyvinylsulfide.
The easy one-pot synthesis based on a mixture of A2 and B3 monomers allowed to controlling end group functionality as well as molar mass. Even though monomers of high steric demand have been used, it was possible for the scientists to find reaction conditions to successfully use the addition reaction of aromatic thiol to the naphthalene and phenyl disubstituted alkyne units for the preparation of high molar mass and highly branched macromolecules.
Making use of the positive contribution of the structural units, especially the naphthalene groups, on the refraction properties, high refractive index (HRI) hyperbranched polymers with record values of 1.79 were realized.
Featuring in addition excellent solution processability due to the highly branched architecture, and high transparency in the visible, these materials are excellent candidates for opto-electronic applications.