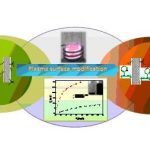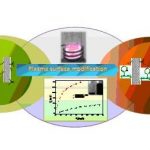 Carbon nanotubes are a fascinating type of carbon which have attracted enormous interest since their discovery only twenty years ago. With their high specific surface areas they offer ideal conditions for the removal of many kinds of organic and inorganic pollutants from various aqueous solutions.
Now, scientists at the Institute of Plasma Physics, CAS, have developed a way to modify multiwalled carbon nanotubes (MWCNTs) with macromolecular functional groups that significantly enhance their dispersion properties and adsorption capacities.
Using an environmentally friendly N2 plasma induced grafting technique, vinylpyridine was grafted on the MWCNT surfaces. The grafted vinylpyridine gives the MWCNTs high dispersion in aqueous solutions,and so the available functional groups of vinylpyridine form strong complexes with metal ions, and thereby enhances the adsorption of these ions onto the nanotubes. For example, looking at the adsorption capacity of Pb(II) ions, as an representative metal ion, the group's vinylpyridine grafted MWCNTs had a far higher higher adsorption capacity than any currently reported. This work highlights the application of plasma techniques not only in material science, but also in environmental pollution management. Through the grafting of special functional groups on nanomaterials by plasma technique, the nanomaterial can not only have high preconcentration and solidification of pollutants from large volumes of aqueous solutions, but also have a selectivity for different pollutant by grafting special functional groups.
Dr. Xiangke Wang of the Institute of Plasma Physics, CAS, China, leader of the team of researchers involved in this work, said: "This is a simple, environmentally friendly process to modify the properties of carbon nanotubes. The surface modified carbon nanotubes have high adsorption capacity in the removal of heavy metal ions and organic pollutants in environmental pollution cleanup."