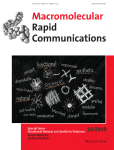 Highly specialized polymers with specific functionality has attracted strong research interest worldwide.
Generally, functionality is defined as the "quality of being suited to serve a purpose well" (according to the Oxford English Dictionary).
In polymer science however, functionality is commonly used to describe various features of polymers, from individual chemical groups and their reactivity, to the unique properties of macromolecules arising as a consequence.
"The growing literature on functional polymers encompasses the impressive levels of control that researchers have in tailoring polymer properties to make them practicably suited to serve a specific purpose" writes Dr. Markus Müllner, senior lecturer at the University of Sydney and Chair of the Royal Australian Chemical Institute, New South Wales Polymer group.
Functional polymers therefore offer a virtually endless source of materials and systems for a wide range of applications, from materials for alternative energy production, to components for robotics, diagnostics, and personalized medicine.
In a recent issue of Macromolecular Rapid Communications, Markus Müllner collects contributions from outstanding scientists on the recent advances on the synthesis and application of functional natural and synthetic polymers. This collection of research articles illustrates the wide-ranging impact of high precision polymer design and the potential applications of functional polymers.
We hope the contributions to this issue will be a source of inspiration to our readers.
Enjoy the reading.
Selected contributions can be accessed for free until December 31, 2019:
Functional Natural and Synthetic Polymers by Markus Müllner
pH‐Responsive Polymer Nanoparticles for Drug Delivery by Nayeleh Deirram, Changhe Zhang, Sarah S. Kermaniyan, Angus P. R. Johnston, and Georgina K. Such
Using Synergistic Multiple Dynamic Bonds to Construct Polymers with Engineered Properties by Zhen Jiang by Ayana Bhaskaran, Heather M. Aitken, India C. G. Shackleford, and Luke A. Connal
Thermoresponsive DNA by Intercalation of dsDNA with Oligoethylene‐Glycol‐Functionalized Small‐Molecule Intercalators by Debaditya Bera, Lars Verdonck, Mathias Glassner, Annemieke Madder, and Richard Hoogenboom
Functional Brush Poly(2‐ethyl‐2‐oxazine)s: Synthesis by CROP and RAFT, Thermoresponsiveness and Grafting onto Iron Oxide Nanoparticles by Tobias Klein, Joshua Parkin, Patrick A. J. M. de Jongh, Lars Esser, Tara Sepehrizadeh, Gang Zheng, Michael De Veer, Karen Alt, Christoph E. Hagemeyer, David M. Haddleton, Thomas P. Davis, Mukundan Thelakkat, and Kristian Kempe
Find here more contributions to the issue.