Numerical process simulations are nowadays standard for designing and optimization of metallurgical processes. Furnace construction, tundish planning, or designing of continuous casting machines are assisted by the pre-use of simulation tools. Especially for steel making, numerical process simulations can be found along the whole production route from iron making, to primary and secondary steel making, via continuous casting and primary forming to manufacturing and finishing. Not only has the rapid development in computer technologies made a continuous knowledge adaptation necessary, but also the advances of hundreds of models of relevant process details had made the overview over the field nearly impossible.
Following the production route of steel making, esteemed experts contributed review articles to this Special Issue of steel research international on modelling and simulation of blast furnace, electric arc furnace, decarbonization processes, continuous casting, ingot casting, electro-slag remelting, and galvanizing operations.
An additional intention of this special issue is to demonstrate what can be done with a corresponding simulation tool and where research and further model advancements are still necessary. So, articles presented in this issue may help production engineers in the steel plant to judge the possible outcome of a simulation tool on one hand and may help the young researcher at the university to identify valuable topics for future simulation/model developments on the other hand.
All articles are freely available – enjoy reading!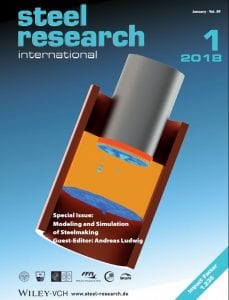 Simulation of As-Cast Steel Ingots by Menghuai Wu, Andreas Ludwig and Abdellah Kharicha
Review on Modeling and Simulation of Blast Furnace by Shibo Kuang, Zhaoyang Li and Aibing Yu
Review on Modeling and Simulation of Electroslag Remelting by Abdellah Kharicha, Ebrahim Karimi-Sibaki, Menghuai Wu, Andreas Ludwig and Jan Bohacek
Review on CFD Simulation and Modeling of Decarburization Processes by Mikael Ersson and Anders Tilliander
Review of Modeling and Simulation of Galvanizing Operations by Frank Ajersch and Florin Ilinca
Review on Modeling and Simulation of the Electric Arc Furnace (EAF) by Hans-Jürgen Odenthal, Andreas Kemminger, Fabian Krause, Lukas Sankowski, Norbert Uebber and Norbert Vogl
Review on Modeling and Simulation of Continuous Casting by Brian G. Thomas