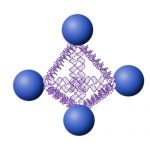 Tetrahedral constructs of DNA are a new way to support proteins on functional nanostructures, according to work by U.S. scientists.
Most people know DNA as the molecule that contains all the information necessary for life, but recently nanotechnologists have also exploited it to make complex and functional nanostructures. DNA is an ideal building block in some ways, as it self-assembles easily. Some researchers have made 3D constructs of DNA based on three- or five-pointed stars. However, it is not straightforward to functionalize the DNA while retaining its structure, because altering either the base pairs or the backbone can change the shape and recognition abilities of the DNA molecule.
Scientists at University of Illinois and Purdue University, U.S.A., have used a specific modification of the DNA backbone that replaces an oxygen atom in the phosphate with a more reactive sulfur atom. They used the reactive sulfur to link DNA molecules in a 3D fashion via a two-ended linker related to biotin (vitamin B7). By this molecular-engineering process, the scientists made a tetrahedral arrangement of DNA strands that were linked to some other strands by the usual base-pairing mechanism and to others through a biotin bridge (see Figure). The biotin can then also be used to attach further functions or even proteins to the array at the apexes of the tetrahedron. The scientists were able to make and identify arrays with one, two, three, and four streptavidin proteins attached. 
The synthesis of the DNA array is chemically simple, can be adapted to make other DNA nanostructures, is high-yielding, and the sulfur modification can be programmably placed within the structure. All of this means that the approach is a highly flexible one that can be used to make many different functional arrays.
New ways to make 3D nanostructures are important in all applications of nanotechnology, which range from electronics and photonics to sensing and nanomedicine. This approach could help to build components for any one of these applications.