Worldwide, the costs from fire losses are estimated at ≈1% of the global gross domestic product. In the U.S., home fires are the most frequent and deadliest type of fire (84% of all civilian fire deaths occur in home building fires). Residential upholstered furniture fires are the single largest cause of civilian deaths in home fires (about 24%) with a yearly estimated average of 610 deaths, 8900 fires, 1120 injuries, and $566 million in direct damage.
Of course, replacing common textiles with flame-resistant alternatives would be a great improvement. But there are several obstacles for the everyday use of flame resistant materials. Environmental concerns relating to flame retardants, limited durability, and individual subjective aspects such as undesired color, appearance, and feel of current flame-resistant textiles can prevent general application.
A new alternative is presented by application of a silicone-based backcoating to the backside of an otherwise smoldering-prone and flammable fabric. When exposed to fire, cyclic siloxanes are transported to the fabric face and subsequently oxidized to form a highly conformal and thermally stable coating, thereby preventing the combustion of the fabric.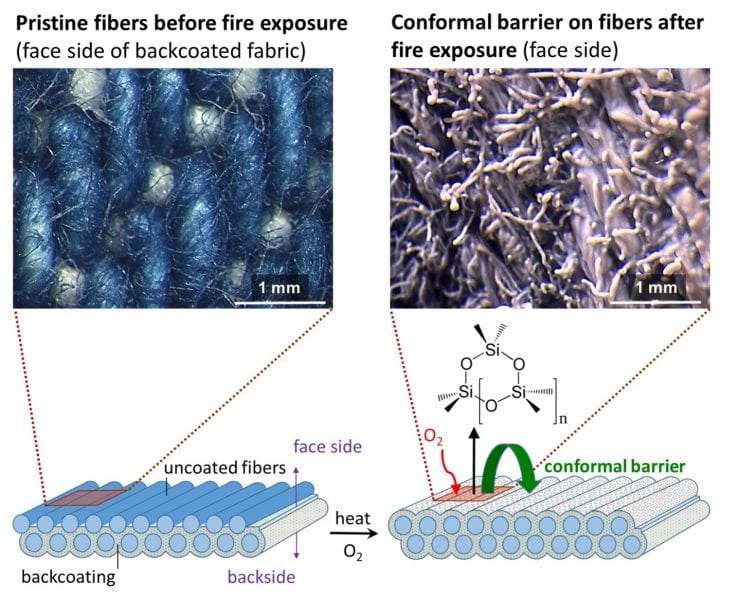 This durable halogen-free backcoating formulation is developed with an expected benign toxicological profile and increased flexibility. This coating provides the fabric with an unusual combination of flaming/smoldering ignition resistance and barrier properties, without affecting color or general appearance of the fabric's face.  When exposed to an intense heat source, water vapor is released and mass transfer phenomena enable the formation of a thermally stable conformal coating on the face-side of the fabric. As a result, flame penetration and ignition of the flammable foam substrate are prevented. This novel flame-retardant technology for reducing the fire hazard of upholstery furniture can be easily extended to textiles for different applications, like protective clothing, draping, bedding, carpeting, transportation, and other multifunctional barrier materials (paper, leather, etc.) requiring flexible structures.