Recently, a 66- year-old former Russian spy and his 33-year-old daughter fell  critically ill after being poisoned with a military-grade nerve agent in Salisbury, Wiltshire, UK. Almost the same time last year, the half-brother of North Korean President Kim Jong-un was attacked at Kuala Lumpur airport. According to the report from Malaysia, Kim Jong-Nam died in less than 20 minutes after two women smeared his face with VX, a nerve agent.
Both of these attacks illustrate the dangers and seriousness of nerve agents. The risk of nerve agent attacks exhibit a need to compile a comprehensive database that contains details on the fate of nerve agents on environmental surfaces.
Nerve agents take many forms, including in powder and gas forms, but they tend to be liquids. A research group from the Israel Institute for Biological Research measured a temperature-dependent volatilization rate of the nerve agent GB (sarin) from various common matrices, and evaluated the risk due to its release.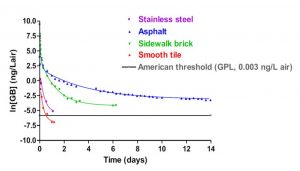 Profiles demonstrating the vapor concentrations as a function of time were calculated. The results indicate that fast clearance of GB is measured from smooth surface tiles (Matt granite porcelain tiles), as these porous tiles both adsorb and/or degrade GB droplets very quickly.
The concentration profile of commercial sidewalk bricks shows a moderate decay, while asphalt blocks relatively conserve GB, exhibiting a slow-release mode of action. Even after 2 weeks, the GB air concentrations remained above the American threshold (0.003 ng L–1 air). Nevertheless, using standard decontamination procedures such as super tropical bleach may prevent this secondary evaporation risk on asphalt blocks.
The research suggests that GB contamination may cause a secondary risk due to its slow release mode of action, especially from conserving types of surfaces. This data may also assist the authorities with predicting whether the attack site should be considered "clean" enough at a given time point.