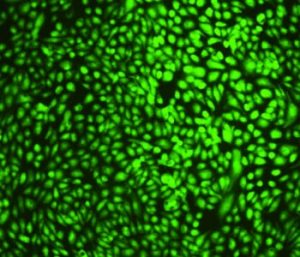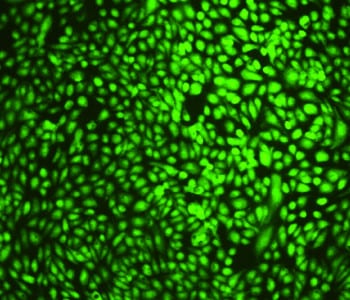 Light irradiation can be applied to an object locally and instantaneously without contact, and therefore it is a better micrometer-scale cell manipulation technique than many other methods. However, it can still be improved, and the development of biocompatible photoresponsive material is key to that end.
Now, Fumiki Yanagawa et al. have reported reported a novel crosslinker – an activated-ester-type photocleavable crosslinker – to prepare photodegradable hydrogels. Their photocleavable crosslinker is potentially a convenient material for preparing photodegradable hydrogels with biocompatible polymers containing amino moieties (amino-terminated tetra-arm poly(ethylene glycol) or gelatin). They prepared photodegradable hydrogels simply by mixing a prepolymer solution and crosslinker solution. The hydrogel formation proceeded in aqueous solutions under neutral pH conditions. The adhered cells can be cultured with high viability and proliferation rates on the photodegradable hydrogels prepared with gelatin.
They demonstrated that these hydrogels can be micropatterned by shining light through photomasks and that the degradation depth of the micropatterns could be varied by altering the light exposure. The approach presented in this paper is potentially useful for manipulating cells on hydrogels to form engineered tissue constructs, owing to its versatility with respect to chemical composition and the simplicity of the hydrogel preparation procedure.