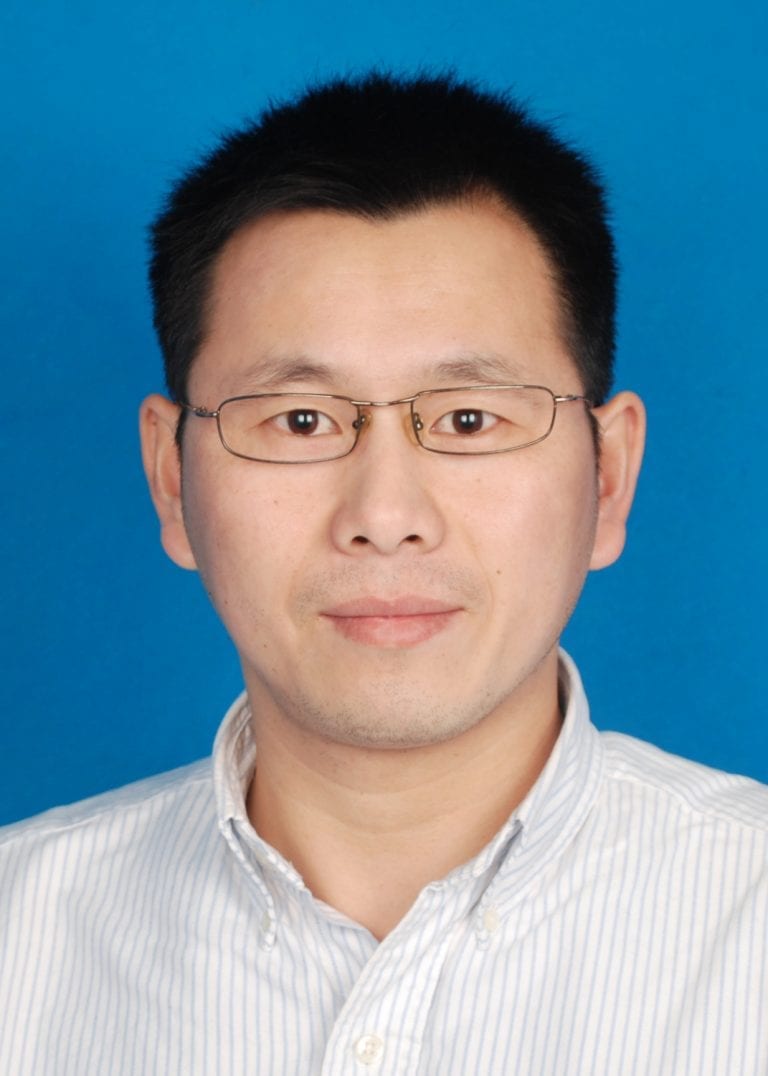 We talk with Huisheng Peng about how his research interests and career have developed and his role as an Editorial Board co-chair for the new journal ChemNanoMat.
Huisheng Peng received his BEng in Polymer Materials from Donghua University in China in 1999, MSc in Polymer Science from Fudan University in China in 2003 and PhD in Chemical Engineering from Tulane University in USA in 2006. He worked at Los Alamos National Laboratory, US Department of Energy, from 2006-2008. Dr. Peng has been appointed as a Professor at the Department of Macromolecular Science and Laboratory of Advanced Materials at Fudan University since October 2008. He served as an Associate Chair at Department of Macromolecular Science since 2012 and Director of the Center of Polymers and Their Advanced Composite Materials (also called "2011 Project" in China) since 2014. His research focuses on the development of novel energy materials and devices particularly based on polymers. He is a pioneer in the field of fiber-shaped energy harvesting and storage devices.
How do you feel about your new role as a co-chair of the Editorial Board of ChemNanoMat?
Wiley-VCH has been recognized as a renowned publisher in the fields of Chemistry and Materials Science around the world. For instance, Angewandte Chemie International Edition and Advanced Materials are considered as flagship journals in Chemistry and Materials Science, respectively. It is natural for Wiley-VCH to combine the above strengths to start a new journal that emphasizes the use of chemical methods for synthesizing functional materials, particularly, nanomaterials. This journal may have great contributions in multidisciplinary fields and will attract a lot of interest in Chemistry, Physics, Biology, Materials Science, Electrical Engineering, and many other fields. I am familiar with many editors at Wiley-VCH and am highly impressed by their professionalism and high efficiency. It will be a great pleasure to work with them. Therefore, I was very glad to accept the invitation to be a co-chair of the ChemNanoMat Editorial Board. During the past year, I have enjoyed working with the editors and their colleagues in the promotion of this new journal, for example, distributing information in scientific circles by all available routes and encouraging the submission from scientists in the world. My group will also submit nice manuscripts to the journal. I believe that our new journal will surely become an effective platform in publishing the best results in Materials Chemistry and many other related fields.
What are the highlights and future developments of your academic career?
In terms of research, I would say the work on fiber-shaped energy harvesting and storage devices in the last five years at Fudan University. I was lucky enough to be offered a faculty position at Fudan in October 2008. The labs were well-equipped prior to my arrival, and I just ordered some chemicals and basic instruments to get my research started after only a month. I also received a good start-up fund at the beginning of my research, which helped a lot. I also feel very lucky to have strong support from my colleagues and to work with some brilliant graduate students and other researchers in the lab. I greatly enjoy working with them.
For the fiber-shaped energy harvesting and storage devices, we first developed a series of highly aligned carbon nanotube composite fibers that are flexible, mechanically strong and electrically conducting, and successfully used them as electrodes to make one-dimensional dye-sensitized solar cells, polymer solar cells, supercapacitors, lithium-ion batteries and the integrated energy conversion and storage devices. Compared with the conventional planar structure, the unique fiber shape offers a lot of promising advantages such as being lightweight, three-dimensionally deformable, weaveable and wearable. They are particularly useful for flexible and wearable electronic products that may dominate our future life.
We will continue the study on such fiber-shaped energy harvesting and storage devices. There is still a lot of work waiting for us, particularly, further improvements in the mechanical and electrical properties of the composite fiber. For instance, the power conversion efficiency in fiber-shaped solar cells and energy storage capability in fiber-shaped storage devices are greatly decreased after scale up, so the production of high conductivity fiber electrodes for long devices is highly desired to satisfy the needs of practical applications.
The final goal is to develop a family of novel optoelectronic and electronic devices based on this new material. We also hope to develop a family of high-performance structural materials based on the carbon nanotube/polymer composite. I expect that we can make the above progress in the next five to ten years.
What advice would you give to a student who is planning a scientific career?
A lot of suggestions have been made about this issue, and different people have different ideas. In my opinion, you had better ask yourself a very simple question before making a decision: Do you love chemistry?
If yes, then you should be very careful in choosing a research direction. To this end, you may ask a series of questions such as what direction you are most interested in and what you are good at. To help you answer them, you should try to talk to some senior scientists, particularly, your advisors. They are very familiar with you and the chemical research, and can give you feedback, suggestions and comments.
Another important route is to read some biographies about chemists, especially those from the beginning of modern chemistry. You can draw much inspiration from the experiences of the pioneers in chemistry.
What attracted you to science and how did you get to where you are now?
When looking back over my research career, I first want to thank two senior chemists, Professor Ming Jiang and Professor Daoyong Chen, from my Master's degree at Fudan University. Professor Jiang was the lab leader, and Professor Chen directly advised my Master's thesis. At the beginning of my Master's degree, I never thought that I could become a faculty member at a university. I planned to find a job at an international company in Shanghai after graduation, and hoped to be a manager after a few years. Professors Jiang and Chen had changed my mind by the time I graduated in 2003. After three years of research, they had taught me one important thing: I could be a good scientist if I work hard. For example, I had successfully synthesized a series of block copolymers by an anionic living polymerization in several months although I did not have any research experience then and was not totally familiar with the technology either.
Once I realized this, I decided to pursue a Ph.D. in the USA, and basically concluded that I should devote my life to chemistry. The Ph.D. further strengthened my decision. After coming back to Fudan University, I always kept in mind that I should do something unique and particularly useful, although it is not easy to find and explore a new direction. I once worked as an assistant engineer at a fiber company, so it occasionally came to my mind that it would be interesting if various energy harvesting and storage devices appeared in a fiber shape. We then started to verify the possibility of this idea, and we felt lucky that they did work. A few years later, many people from different areas contacted us and informed that these novel fiber-shaped energy harvesting and storage devices were also very useful after we published a series of papers. For instance, they may solve the remaining bottleneck in the wearable electronic products that are proposed as the next scientific and technical revolution, i.e., that conventional planar powering systems cannot effectively meet the wearable requirements. As a strong contrast, the fiber-shaped power systems satisfy these requirements and may speed up the development of wearable electronics as well as many other application fields.