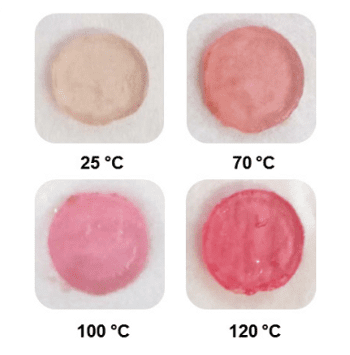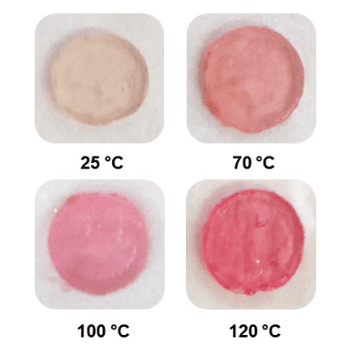 Adhesives and glues are essential in a wide range of applications in modern life, from buildings to vehicles, and mobile devices to biomedical applications. In some cases, rather than permanent adhesion, a strong yet reversible bond is required – debonding on demand.  Researchers in Germany have developed a strong adhesive that can be easily debonded when needed, without the need for high temperatures, mechanical abrading, or extended reaction times, but that also remains stable under normal operating conditions. The new adhesive can be rapidly degraded by relatively low temperatures, with debonding reported in less than three minutes at 80 °C.  As well, the degradation of the adhesive is visually obvious, as the colour of the adhesive changes due to the thermal debonding reaction. In practical applications, this will make it immediately obvious whether the adhesive is still holding fast.
Using a non-toxic dimethacrylate polymer adhesive as a basis, the researchers demonstrated the  suitability for this new adhesive in medical applications, including dentistry. A dental crown was bonded to an dental abutment using the new adhesive, and compared to a commonly used dental glue. Removal of the crown bonded with the new polymer was much simpler than the dental glue. When heated to 80 °C, the new adhesive could be unstuck using a small force of only 42 N, compared to 663 N for the dental glue. A temperature of 80 °C can be tolerated in the mouth for a short time, and the adhesive is therefore greatly suited to dental applications.
The newly designed adhesive is based on a free-radical polymerized polymer network, with linking between the polymer chains provided by moiety additives. This is in contrast to typical adhesives prepared via free-radical polymerization processes, which form permanents bonds due to covalent crosslinking of the network. The temperature dependence of the adhesive is introduced into the polymer network by the presence of temperature-responsive moieties. At a certain temperature, the moieties undergo a retro  hetero Diels–Adler reaction, which  unlinks the polymer chains, and degrades the network, allowing the bound objects to be unstuck. The temperature of the degradation can be tuned by employing a co-monomer in the polymerization.