The increase in mortality rate associated with metastatic colorectal cancer (mCRC) urges medical oncologists to search for new strategies. Targeting the epidermal growth factor receptor (EGFR) signaling pathway has been the focus of new drug development approaches in the fight against mCRC.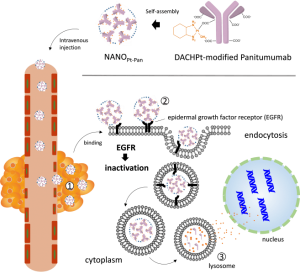 Panitumumab is an EGFR antagonist indicated for the treatment of mCRC. Clinically, targeting therapy combined with chemotherapy (TCT) using monoclonal antibody Panitumumuab and cytotoxic drug Oxaliplatin is effective for mCRC, but it shows significant therapeutic benefit only in about 50% of mCRC patients. Retrospective subset analyses of mCRC trials have shown no treatment benefit for Panitumumab in patients whose tumors had KRAS mutations. There is an unmet need of new therapeutic strategies for KRAS-mutant tumors because they don't respond to EGFR-targeted agents.
To enhance the anti-mCRC efficacy of TCT with the use of Panitumumab-Oxaliplatin combination, a group led by Ming-Jium Shieh from National Taiwan University Hospital has created a new targeted chemotherapeutic nano-medicine NANOPt-pan. This nano-medicine composed of Panitumumab and DACHPt (the active form of Oxaliplatin) could passively and actively target EGFR over-expressing tumors and effectively target both KRAS wild type- and mutant-tumors. Their results have overcome the treatment limitation of EGFR antagonist in mCRC and suggest NANOPt-pan is a potential candidate for further clinical application. See their paper in Advanced Healthcare Materials now.