Schuler and Dörries Scharmann have worked together to resolve some serious issues. The Swiss Starrag Group company and the mechanical maintenance department at the Schuler plant at Weingarten in Germany subjected an almost 30 year old Wotan Rapid 6 large boring machine to a fundamental retrofit.
"The intensive discussions with engineers from Dörries Scharmann were worthwhile, as the extensive tuning measures gave us significant added value", said Alexander Horn, head of maintenance, factory planning and property at Schuler Pressen GmbH's Weingarten plant.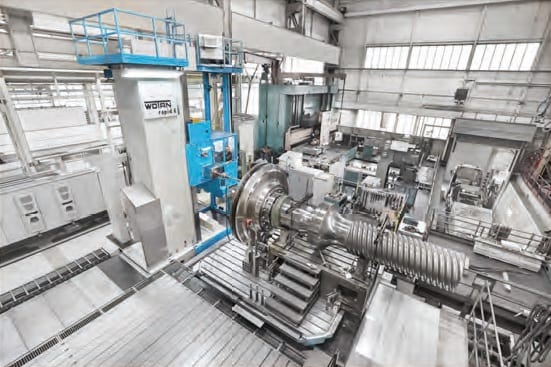 The mechanical system is as good as new, even though the old renovated components are still in use. It is topped off by the new state-of-the-art electronics and intelligence.
Dörries Scharmann Technologie GmbH (DST) from Mönchengladbach, Germany, has excellent business relationships with numerous companies from the Schuler Group for years, as the companies told. Holmer Thomas from DST Project Engineering explained: "We carried out the retrofit, because as the machine manufacturer we have all the documentation for the machine and offer a huge amount of know-how in this area."
The 1987 constructed Wotan Rapid 6 large boring machine, the largest machine in the Weingarten plant, had an urgent need for strategic action due to deteriorating quality. "It was only thanks to our employees' resourcefulness that we were able to continue producing parts in the required quality", Horn recalls. "But then we got the green light to go ahead with the retrofitting." The requirements in the specification were demanding as the components produced on the machine have to be processed with extreme precision. The maximum variation over the entire length of 10 meters (in the X-axis) is just 60 μm after the retrofit.
According to Schuler and DST, they modified the Wotan machine at numerous trouble spots from an operator perspective. For example, the large boring machine was given a completely new table saddle with a modified drive concept. Previously, a double pinion drive was used, but it was only powered on one side. The Wotan 2.0 now contains a double pinion drive with two electronically tensioned drives. Horn said: "It was a challenge, as we had to deal with a totally new table saddle construction."
His praise for the joint project carries significant weight for two reasons: On the one hand, the plant itself has many years' experience in machine tool construction, and on the other it is also very active and experienced when it comes to retrofitting. "We are currently constructing a retrofit transfer system for a large press for a well-known German car manufacturer", Horn added.