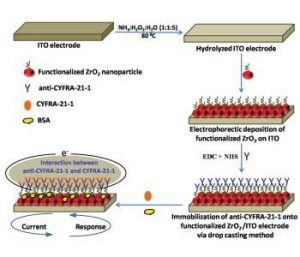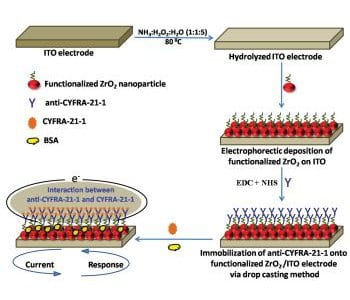 Researchers from New Delhi and Riverside, CA, have developed a simple, sensitive, and noninvasive tool for oral cancer (OC) detection. This biosensing platform with covalently attached antibodies can detect an OC biomarker in a broad range (2–16 ng mL−1) at concentrations as low as 0.08 ng mL−1. This detection is possible without additional labeling.
Noninvasive diagnostic techniques, which utilize biomarkers, are preferred methods in medicine. In addition to their advantage of avoiding surgical interventions, their application is fast and user-friendly. The biomarker CYFRA-21-1 occurs in saliva and shows elevated concentrations in cancer patients. Therefore, it is a perfect candidate for a noninvasive OC detection method.
The biosensor material is fabricated by covalently attaching anti-CYFRA-21-1 to nanostructured ZrO2 on indium tin oxide coated glass. The researchers realized the immobilization of the antibodies by functionalizing ZrO2 with an aminosilane linker. When CYFRA-21-1 binds to the immobilized antibodies, the oxidation current in cyclic voltammetry measurements is increased. This current response correlates to the concentration of CYFRA-21-1 in the analyzed sample. Therefore, the developed biosensing platform is a potent tool to directly detect an OC biomarker in saliva samples.
Advanced Science is a new journal from the team behind Advanced Materials, Advanced Functional Materials, and Small. The journal is fully Open Access and is free to read now at www.advancedscience.com.