So-called "biosensors" are sensors that detect or quantify biomolecules, such as glucose, proteins, or DNA. Biosensing has numerous potential applications in health care, food processing, and environmental control. However, the existing market is largely limited to glucose biosensing. The development of new biosensor technologies could enable the commercial success of biosensors for many different biomolecules, leading to major breakthroughs in diagnostic and personalized medicine.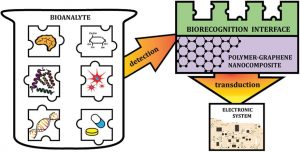 Recent advances in polymer science, nanotechnology, and carbon-nanomaterials (graphene in particular) offer a great deal of promise in fulfilling the potential of biosensors. So-called "polymer-graphene nanocomposites" aim to leverage the unique, attractive properties of graphene, such as large surface area and excellent conductivity, by combining them with those of a polymer.  As discussed in a recent review by P. Sobolewski et al., a variety of polymers, including intrinsically conducting polymers and bio-based polymers, have been utilized as matrices for graphene, each polymer contributing it's own unique properties.
The crucial components of a biosensor that interacts with the target biomolecule are typically other biomolecules, such as antibodies, enzymes, or oligonucleotides. However, these biomolecules are delicate and expensive, limiting mass production. On the other hand, some polymers can be structured by "molecular imprinting", a process that enables the creation of artificial biorecognition elements in a fast and economic process. As a result, molecular imprinting may be a key technology for enabling biosensors to fulfill their full potential.
Ultimately, biosensors need to be produced via large-scale synthesis and ideally in an eco-friendly and energy efficient method. From this point of view, a polymer-graphene nanocomposite platform approach is very promising. This strategy would enable a range of biosensors by including variable biorecognition elements, especially those obtained via molecular imprinting. If realized, this approach offers the potential to spearhead the efforts to develop cheap, shelf-stable biosensors for various biomolecules, enabling successful translation to the market.