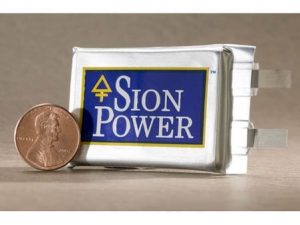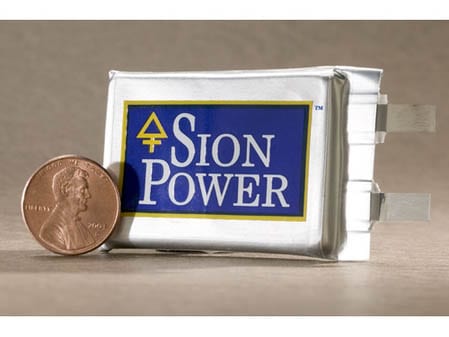 BASF today announced that it has invested $50 million to acquire an equity ownership position in privately held Sion Power, the global leader in the development of lithium-sulfur (Li-S) batteries, based in Tucson, Arizona. 
This equity partnership expands upon an existing joint development agreement that BASF Future Business GmbH established with Sion Power in 2009 to accelerate the commercialization of Sion's proprietary Li-S battery technology for electric and plug-in electric vehicles and other high-energy applications over the next decade.
"We are delighted to strengthen our ties with Sion Power, which will allow us to leverage the expertise of both companies to deliver leading-edge lithium-sulfur technologies to the battery materials market in the years ahead," said Dr. Andreas Kreimeyer, member of the Board of Executive Directors and Research Executive Director of BASF SE.
According to Dr. Dennis R. Mangino, CEO of Sion Power, "The progress of the technical collaboration between Sion Power and BASF for more than two years now has led BASF to take a significant financial stake in Sion. We are proud to announce this expanded partnership and look forward to realizing the benefits of our synergistic relationship."
The agreement with Sion Power provides a long-term complement to BASF's current activities in the areas of electrolyte formulations and lithium-ion cathode materials development, including its start-up of an advanced cathode materials manufacturing plant in Elyria, Ohio, later this year. These initiatives are being managed under BASF's new global business unit "Battery Materials," which was launched on January 1, 2012, to integrate the company's current and future battery materials-related activities within a single operating unit managed by its Catalysts division, based in Iselin, New Jersey.
"Advanced cathodes, anodes and other battery materials are key enabling technologies for battery performance," noted Ralf Meixner, BASF's Senior Vice President, Battery Materials. "Through our investment and collaboration with Sion, we are positioned to take a leadership role in developing next-generation battery material solutions, further supporting the effort to make electric cars affordable, environmentally friendly and sustainable."
BASF had previously announced its intention to invest a three-digit million euro sum in researching, developing and producing advanced battery materials through 2016. The company is also exploring next-generation battery materials concepts, including the lithium-sulfur technologies now in early stage development with Sion Power.
"Our investment in Sion Power supports our long-term objective of becoming the leading provider of functional materials and components to serve cell and battery manufacturers worldwide," said Frank Bozich, President of BASF's global Catalysts division. 
Sion Power's Chairman, Dr. Leo Guthart, added, "Sion Power is the recognized global leader in lithium-sulfur battery technology. We are pleased that BASF has recognized the high caliber of our research efforts and the dominance of our patent estate and has elected to become our partner and co-developer. Our work has now progressed to a strong partnership and shared vision aimed directly at working together to enable electromobility."