(IPF Dresden, Germany, Past President of the EPF)
The latest issue of Macromolecular Chemistry and Physics is dedicated to contributions highlighting European-Australian collaborations and activities in polymer science. With the title Australian European Macromolecular Interactions, the issue is guest-edited by Christopher Barner-Kowollik, Franck D'Agosto, Sebastien Perrier, Andrew Whittaker, and Holger Schoenherr.
Especially in the last decade many programs and collaborative structures have been established to foster academic exchange between Europe, dominated by Germany and UK, and major Australian Universities with focus on joint PhD programs and joint faculty positions like in the Warwick-Monarch Alliance.
For the first time, a special one day European-Australian Session was organized within the latest European Polymer Federation Congress (EPF 2015) which took place in Dresden, Germany, in July 2015.
Speakers from Australia (4), UK (3), France (1) and Germany (4) presented the latest results from their labs in a full-day workshop covering especially novel polymeric structures and assemblies, and their characterization and use as functional materials.
The session organizers, Sebastian Perrier, Christopher Barner-Kowollik, Andrew Whittaker, Holger Schoenherr, high-level speakers, and the excellent frame of the EPF 2015 with nearly 1200 participants, ensured that this symposium was of the highest scientific quality and attracted high interest.
Directly after the lectures, and during coffee breaks and poster sessions, intensive exchange was possible on the latest scientific findings and on the experience in European-Australian collaborations and possible funding programs.
Being integrated directly in the largest European Polymer Congress, it was easy to establish new contacts and to discuss possible collaborations, not only during the European-Australian Session, but also during the one-week strong and broad congress program with 8 plenary and 82 keynote lectures, 425 contributed lectures and about 600 posters.
Major top-notch key topics of the congress program, like Advances in macromolecular synthesis, Polymers meet biology and Soft matter science, including high level characterization of complex polymer structures and their special properties, were well reflected in the special European-Australian Session and are now also shaping this special issue of Macromolecular Chemistry and Physics.
We hope you as readers of these articles will get a glimpse of the special atmosphere of this first European-Australian workshop and you will become curious to learn more about Australian polymer research activities and the strong relationships to European groups.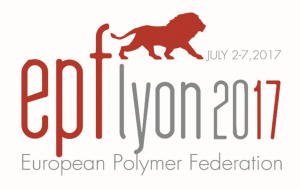 We can already announce that this very successful experiment will be repeated at the next European Federation Polymer Congress, which will take place in Lyon, France, from July 2 to 7, 2017.
We cordially invite you to join EPF 2017, including the second European-Australian Session, in the beautiful setting of the Lyon Convention Center next to the river Rhone.
Jean-François Gerard, Brigitte Voit, Christopher Barner-Kowollik, Holger Schoenherr, Sebastien Perrier, and Andrew Whittaker
Selected contributions to the Macromolecular Chemistry and Physics special issue
Polymeric Drift Control Adjuvants for Agricultural Spraying by Reece W. Lewis, Richard A. Evans, Nino Malic, Kei Saito, Neil R. Cameron
Temperature-Controlled Antimicrobial Release from Poly(diethylene glycol methylether methacrylate)-Functionalized Bottleneck-Structured Porous Silicon for the Inhibition of Bacterial Growth by Stephanie Müller, Alex Cavallaro, Krasimir Vasilev, Nicolas H. Voelcker and Holger Schönherr
Direct Correlation Between Zeta Potential and Cellular Uptake of Poly(methacrylic acid) Post-Modified with Guanidinium Functionalities by Yee Yee Khine, Manuela Callari, Hongxu Lu and Martina H. Stenzel
Molecular Polymer Brushes in Nanomedicine by Markus Müllner
Enjoy the Reading!