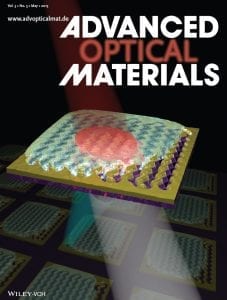 The latest issue of Advanced Optical Materials is now available. You can sign up to access all Advanced Optical Materials articles right here!
These articles were highlighted on the covers of the Advanced Optical Materials May issue:
Metamaterials
O. Buchnev, V. A. Fedotov, and co-workers at the University of Southampton demonstrate an active, nanostructured, planar metamaterial functionalised with a nematic liquid crystal. For the first time, this metamaterial fully engages the mechanism of electrically controlled nanoscale in-plane switching of the liquid crystal director, enabling control of both the magnitude and wavelength of the transmission.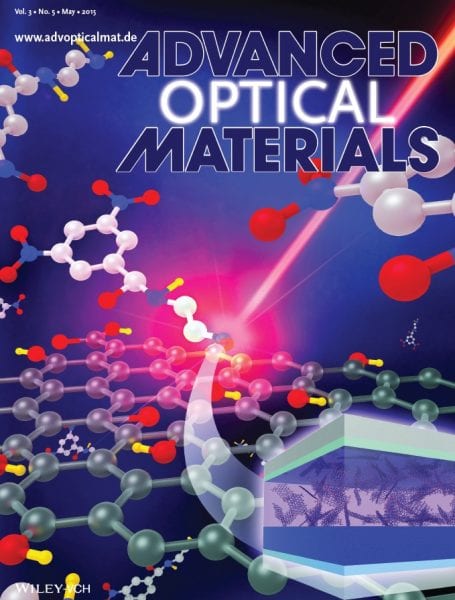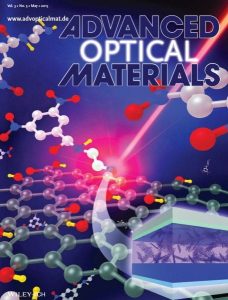 Organic Solar Cells
The artwork represents the photochemical reaction for the synthesis of a graphene-based electron-accepting derivative. Ethylene-dinitro-benzoyl small molecules are shown in the vicinity of a graphene oxide nanosheet, one of which is preferentially bonded to the graphene oxide lattice under the photochemical action of a laser beam. E. Kymakis, E. Stratakis, and co-workers use this photochemical synthetic route to create graphene-based electron acceptors with tunable bandgaps for organic solar cells.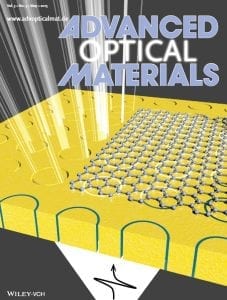 Terahertz Waves
For enhanced light–matter interactions with 2D materials, ultra-small metallic nanogaps can be utilized. As shown in the image from S.-H. Oh and co-workers, light incident from below is strongly confined within these annular gaps and efficiently funneled through for extraordinarily large transmission. By placing monolayer graphene at the exit of these gaps (the right side is covered with graphene), this enhanced transmission is blocked since the graphene absorbs 99% of the strongly confined waves.