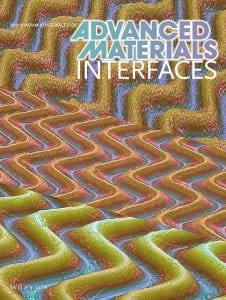 A new journal from the Advanced Materials family covering all aspects of surface and interface science is launching in early 2014. Learn more at www.ami-journal.com.
Scope of Advanced Materials Interfaces
Advanced Materials Interfaces is a new international, interdisciplinary, English-language journal, which will publish its first issue in early 2014. It provides a wide choice of formats ranging from communications, progress reports and review articles, as well as full papers. The journal is now open for submission and the editorial team is looking forward to reading your manuscripts.

Keywords:
surface treatments
heterogeneous catalysis
surface reactions
self-assembly
biofilms
polymer interfaces
oxide interfaces
2D materials
layered materials
membranes
thin films
device junctions
photovoltaics
composites

electrode/molecule contacts
magnetic interfaces
superconducting interfaces
topological insulators
highly correlated systems
surface & interface analysis
theory & simulation
nanostructured materials
nanoparticles
colloidal systems
nanocrystalline materials

adhesion
coatings
lubricants
tribology
wear
surface modification
surface engineering
adsorption/desorption
diffusion and growth
surface patterning
grain boundaries
organic/inorganic interfaces
wetting
nanoglasses
Executive Advisory Board:
Hans M. Christen, Oak Ridge National Laboratory
Harald Fuchs, University of Münster
Karen K. Gleason, Massachusetts Institute of Technology
Bartosz A. Grzybowski, Northwestern University
Lei Jiang, Institute of Chemistry, Chinese Academy of Sciences (ICCAS)
Helmut Möhwald, Max Planck Institute of Colloids and Interfaces
Alexander Shluger, University College London