Do you have difficulty seeing beautiful landscapes in the far horizon? Or would just like to change the color of your eyes from blue to green? Contact lenses may be the answer you're looking for.
The Italian inventor Leonardo da Vinci (1452-1519) experimented with the possibility of altering the optics of the human eye by putting water directly in contact with the cornea. However, we need to wait more than 400 years before contact lenses as we know them made their next appearance.
It is still controversial who reported for first the use of contact lenses, but it seems that the earliest samples appeared between 1887 and 1888. At that time, even Sir Arthur Conan Doyle found contact lenses fascinating, to the point of deciding to have them used by his character, private detective Sherlock Holmes, in some of his disguise.
Cumbersome, heavy, and (dangerously) made of glass in their early state, contacts transitioned through non-porous, hard poly(methyl methacrylate) options and finally toward softer alternatives made from silicone hydrogel. Since their first appearance to now, contact lenses have come a long way, becoming more practical and comfortable and developing new functionalities.
In this sense, technology has once again helped us take a step forward. We have all probably heard about smart contact lenses, which became popular after the Google announcement in 2014. Here, the term "smart" refers to wearable devices which do not only correct vision defects, but which are also capable of detecting and monitoring specific parameters, such as the intraocular pressure, eye motion, or even the glucose level in tears.
However, despite progress made in the last 20 years, there are still some limitations to overcome. Those of you who regularly use contact lenses have probably experienced the "dry eye syndrome" at least once. It usually manifests with different symptoms such as burning sensation, itchy, heavy and fatigued eyes, blurred vision, and so on, and can be caused by a poor lubrication and a lack of moisture on the surface of the eye.
When caused by the use of contact lenses, the " dry eye syndrome " is attributed to a faster moisture evaporation through the lens with respect to the normal tear film. This phenomenon leaves the eye partly dry, leading to discomfort or, in the worst cases, even to corneal wounds and inflammations. Despite this known limitation, only a few attempts to improve the water retention in contact lenses have been made so far. Now, Professor Matsuhiko Nishizawa and co-workers at Tohoku University in Japan have endeavored to find a solution.
In their article recently published in Advanced Materials Technologies, the group has reported an original solution by proposing a soft contact lens with an anti-dehydration effect due to an induced electroosmotic flow (EOF), i.e. a convective solvent motion generated by a voltage.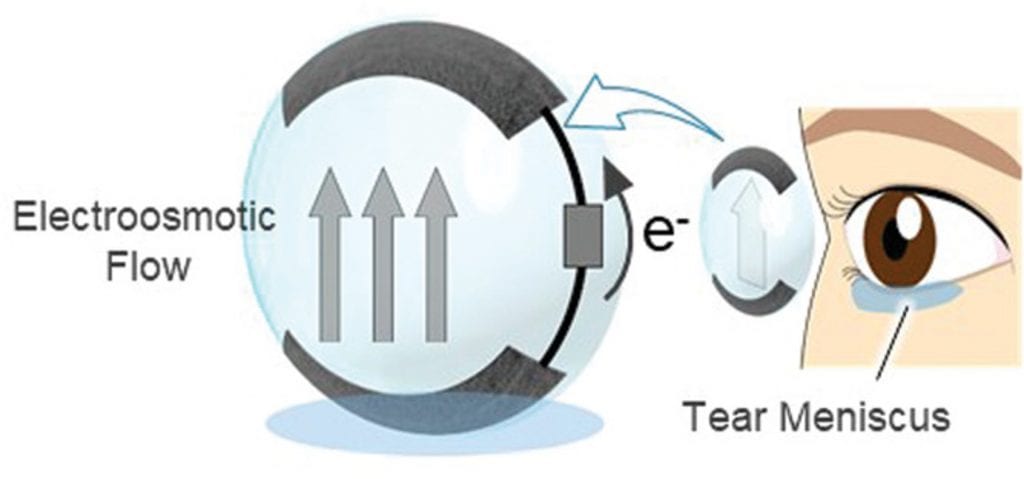 In particular, the team have developed and optimized a fixed-charge hydrogel as means of the EOF flow. This material was synthesized by the copolymerization of three different monomers: 2‐hydroxyethyl methacrylate (HEMA), methyl methacrylate (MMA), and methacrylic acid (MA), while the voltage was generated by a biocompatible battery (Mg /O2 battery and fructose/O2 enzymatic battery), directly mounted on the contact lens. The voltage causes the electromigration of the dominant counter ions onto the fixed charges of the hydrogel and produces a net water flow, thus inducing a self-moisturizing effect.
An interesting solution to prevent the "dry eye syndrome", but some challenges still remain and the authors have new goals in mind. Future efforts will focus on developing new hydrogels able to operate at smaller current. Moreover, the authors also suggest that a new design of the material using a combination of charged and non-charged hydrogels could allow the control of the moisturized area, further improving the effectiveness of the anti-dehydratation effect.
This work could lay the foundations for a new generation of contact lenses and maybe open the way to new applications, such as drug delivery in ophthalmology. According to Nishizawa: "At present, the contact lens cause dry eye, but in the future it may be necessary to wear contact lenses to prevent it". We do not yet know what the future of smart contact lenses will hold, but we expect a great deal.
Check them out and keep your eyes open!
Research article found at: S. Kusama, K. Sato, S. Yoshida, M. Nishizawa, Advanced Materials Technologies, 2019, doi.org/10.1002/admt.201900889
March 25, 2020: This research article has also been included in the virtual issue of Polymer Technology hosted by Advanced Materials, which can be accessed here.