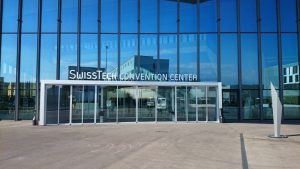 The 1st International Conference on Perovskite Solar Cells and Optoelectronics (PSCO-2015) was held at the Swiss Convention Center at the Ecole Polytechnique Fédérale de Lausanne (EPFL), from 27–29 September, 2015.
With more than 460 registered participants and 16 invited speakers, the conference brought together a broad international scientific community working in the interdisciplinary field of perovskite materials. The programme included a combination of invited lectures in the morning and contributed talks in two parallel afternoon sessions. Next to the talks, the attendees had plenty of time to discuss the latest advances in perovskite materials, devices, and optoelectronic properties during the poster session evenings.
The conference started on Sunday afternoon, with a general introduction to perovskite solar cells and further tutorials on the molecular engineering of interface materials, device optimization, theoretical modeling, and the photophysics of hybrid perovskites given by the four organizers – Henry Snaith, University of Oxford, Mohammad Khaja Nazeeruddin, EPFL, Lausanne, Filippo de Angelis, CNR-ISTM, Perugia and Annamaria Petrozza, Istituto Italiano di Tecnologia, Milan.
Monday morning's session started with a lecture by Michael Grätzel on "Nanocrystalline Junctions and Perovskite Solar Cells". He mentioned the progress and key challenges in perovskite research, such as the role of radiative and non-radiative recombination, doping, and the search for new hole conductors, planar device configurations, tandem cells, and stability as a key issue. Besides many other interesting contributions, Laura Herz ("Influence of Composition on the Charge Carrier Recombination and Mobility in Hybrid Metal Halide Perovskites") and Ted Sargent ("Optoelectronics based on Colloidal Quantum Dots, Perovskites, and Hybrids") gave impressive talks that generated a high level of interest and led to animated discussions among the audience. The morning opening session was concluded by several sponsor presentations, such as Dyesol, Solaronix, and Oxford PV, who were also represented at their own exhibition booths.
Martin Green (University of South Wales), who is known for his tremendous contributions to the field of photovoltaics, opened Tuesday morning's session, followed by presentations given by other experts in their fields, i.e., Subodh Mhaisalkar (Nanyang Technological University, Singapore), Jacky Even (Institut National des Sciences Appliqués, Rennes), and Lioz Etgar (Hebrew University, Jerusalem), to name only a few. Particularly noteworthy was the lecture by Paul Meredith (University of Queensland), who gave an inspiring final lecture on "Organohalide Perovskite Photodiodes" in which he also summarized the main findings of the conference. Apart from the scientific programme, the social events were rounded off by a conference dinner that offered another opportunity to meet and discuss face-to-face.
Altogether, anyone with a keen interest in perovskite materials for solar cells and optoelectronics should not miss the opportunity to attend the next session of the conference, which will be held in beautiful Genova in Italy from 5–7 September, 2016.