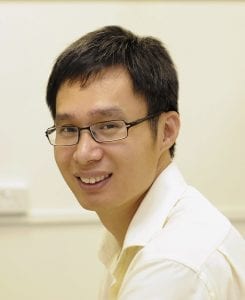 It is with great pleasure that we welcome Xiaodong Chen of Nanyang Technological University (NTU), Singapore, to the editorial board of Advanced Materials. Though still quite early into his career, Dr Chen's CV is peppered with awards and achievements, from the Chinese Government Award for Outstanding Ph.D. Student Abroad in 2005, to the NTU Teacher of the Year Award in 2013.
The list of countries Dr Chen has worked in is almost as impressive as the list of awards to his name. Starting out in China, he achieved his B.S. in chemistry from Fuzhou University, and then went on to study for an M.S. in physical chemistry at the Chinese Academy of Sciences. Transferring to Europe in 2003, he conducted his Ph.D. at the University of Münster in Germany—just a few hours' drive up the road from Advanced Materials HQ. After completing his Ph.D., he moved continents again to North America, the USA, where he worked as a postdoctoral fellow at Northwestern University near Chicago.
In 2009, he returned to Asia and joined NTU in Singapore. He is now an associate professor in the School of Materials Science and Engineering, where he conducts research into integrated nano–bio interfaces and programmable materials for energy conversion.
I briefly chatted to Dr Chen and asked him his views on materials science, his new role, and how he spends his spare time.
On your research and science…
What motivated you to specialize in integrated nano–bio interfaces and programmable materials for energy conversion as your main areas of research?
It is my hope to develop a materials-based solution for a future wherein a high standard of living is attainable without sacrificing our environment. Understanding the nano–bio interface may provide the fundamental breakthrough for biomedical diagnostics and therapeutics, and the rational design and synthesis of materials will provide advances for efficient energy conversion and storage. I strongly believe that these two research direction will lead to revolutionary technologies to secure high-quality living for our children.
In which area of materials science do you expect there to be considerable potential for future development?
As mentioned before, I believe that the design and synthesis of materials for biomedical and energy applications will lead to a higher standard of living for future generations.
What do you think has been the most important contribution to materials science of recent times?
Nanoscience and nanotechnology.
If you had the opportunity to meet any one scientist from the whole of history, who would you choose and why?
I would like to meet Debang Hou, who was an outstanding Chinese chemist and cornerstone of China's modern chemical industry. I most admire his relentless determination in developing technologies to solve problems present in our daily lives. One of his production technologies is pure alkali and ammonium chloride, which was called the Hou Pure Alkali Production Method.
On your new role as a board member…
How do you feel about your role as a member of the Advanced Materials Editorial Advisory Board?
It is my great honor to be part of this team. I hope to be of help in discerning the research and shaping the journal.
From your perspective, what are the great challenges and opportunities that lie ahead for scientific publishing?
Reliable publication and open access to knowledge.
And finally, a little about you as a person…
Do you have any great interests or hobbies outside of science and your research?
Watching sports games and playing with the kids.
What would be your ideal holiday: a relaxing one or an active one?
A relaxing one: to stay with my wife and kids at a sea resort without internet!
You are very well-travelled, having spent time in China, Germany, the USA, and now Singapore. To any young scientists thinking of studying or working in a foreign country, what would be your biggest piece of advice?
Be adaptive to the social culture, but at the same time be unique in research.